Q&A
Quora Details Their New Answer Ranking Scheme; Their "PageRank", Of Sorts. As you may have seen, last weekend, Robert Scoble worked himself into a tizzy because an answer of his was moderated into a collapsed state on Quora.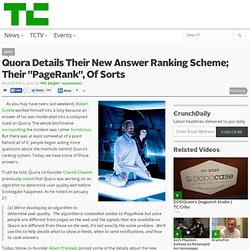 The whole bitchmeme surrounding the incident was rather humorous. But there was at least somewhat of a point behind all of it: people began asking more questions about the methods behind Quora's ranking system. Today, we have some of those answers. It's time you got some answers. So, you want some answers?
Log in to Swingly using an existing account! Rather than require you to create yet another username and password, we'll let you use an account you already have. Swingly's Answer Engine Comes Out Of Stealth Swinging And Killing Zombies. An insane number of searches on the web involve people asking questions.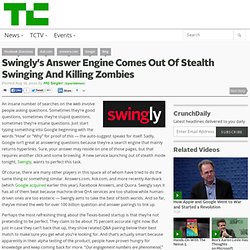 Sometimes they're good questions, sometimes they're stupid questions, sometimes they're insane questions. Just start typing something into Google beginning with the words "How" or "Why" for proof of this — the auto-suggest speaks for itself. Sadly, Google isn't great at answering questions because they're a search engine that mainly returns hyperlinks. Quora - Home.
---