Patents
What if Google and Samsung Are on the Wrong Side of the Patent Wars?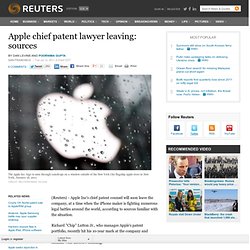 Exclusive: Apple chief patent lawyer to leave
By Dan Levine and Poornima Gupta SAN FRANCISCO Tue Jul 12, 2011 2:37pm EDT SAN FRANCISCO (Reuters) - Apple Inc's chief patent counsel will soon leave the company, at a time when the iPhone maker is fighting numerous legal battles around the world, according to sources familiar with the situation. Richard "Chip" Lutton Jr., who manages Apple's patent portfolio, recently hit his 10-year mark at the company and decided it was time to try something else, according to a source familiar with Lutton's thinking. An Apple representative declined to comment.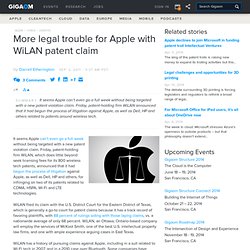 More legal trouble for Apple with WiLAN patent claim — Apple News, Tips and Reviews
It seems Apple can't even go a full week without being targeted with a new patent violation claim. Friday, patent-holding firm WiLAN, which does little beyond seek licensing fees for its 800 wireless tech patents, announced that it had begun the process of litigation against Apple, as well as Dell, HP and others, for infringing on two of its patents related to CDMA, HSPA, Wi-Fi and LTE technologies. WiLAN filed its claim with the U.S. District Court for the Eastern District of Texas, which is generally a go-to court for patent claims because it has a track record of favoring plaintiffs, with 88 percent of rulings siding with those laying claims, vs. a nationwide average of only 68 percent. WiLAN, an Ottawa, Ontario-based company will employ the services of McKool Smith, one of the best U.S. intellectual property law firms, and one with ample experience arguing cases in East Texas.