Groupon
Get flash to fully experience Pearltrees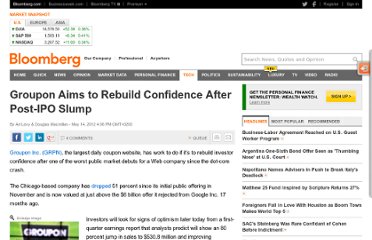 Groupon Inc. (GRPN) , the largest daily coupon website, has work to do if it's to rebuild investor confidence after one of the worst public market debuts for a Web company since the dot-com crash.
Groupon: Collective Buying Power
By Mark Gongloff Groupon shares now have the dubious distinction of having fallen below their IPO price.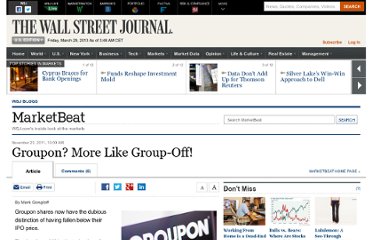 Today, Groupon filed a prospectus to raise funds via a public offering. Over the next week, they will be pitching investors to participate in this offering.
The Rodney Dangerfield of CEOs. For the past six months, just about every pundit in the world has piled on Groupon , denouncing it as a crappy, fraudulent Ponzi scheme that will ultimately collapse in a heap. At the heart of this collective dismissal has been the conviction that Groupon will "never make money."
With reports that Google's Groupon competitor Google Offers has gotten off to a slow start, the company has announced another acquisition in the Daily Deals space, snapping up German deal site DailyDeal .
By MICHAEL HICKINS
What a difference a deal makes. This morning, Groupon launched its first nationwide deal, $25 off a $50 purchase at Gap . The promotion, which was available in every city, briefly crashed Groupon's servers as deal-happy consumers clicked on the 50% discount and pinged their friends. Despite the technical difficulties, according to Groupon 's CEO Andrew Mason, as of 11AM PST (the e-mail blast went out at roughly 6AM in each time zone) Groupon has sold 200,000 Groupons and is currently selling roughly 10 per second .
Local deal goliath Groupon is launching a major new feature today: deal personalization, giving the site the ability to send you the deals it thinks you'll be most interested in. Before now, Groupon has always offered one or two deals per city per day to its users. That's still going to be true, but with a twist: the site will be sending different deals to users based on criteria like their gender, buying history, and their interests.
Our favorite digital coupon group buying site Groupon has cemented its foray into Japan and Russia today with the acquisitions of Japanese and Russian deals sites Qpod and Darberry respectively. Groupon has a tendency to acquire and rebrand its better outfitted clones, most recently buying the German startup Citydeal as an outpost of its European expansion. Groupon, which has the dubious distinction of being a startup with a built in business model, recently raised $135M in Series C funding lead by DST and Battery Ventures. The site also just launched "personalized deals," which are also in line with the company's push towards expansion. Groupon Japan and Groupon Russia are the latest notches in Groupon's belt of world domination; The company now serves up deals to more than 13 million subscribers in 29 countries and employs more than 1,200 people worldwide.
Alors que Groupon revoit ses revenus à la baisse, il prévoit de lancer une plate-forme e-commerce pour faire face à des concurrents comme Amazon. Un changement stratégique majeur.