Deals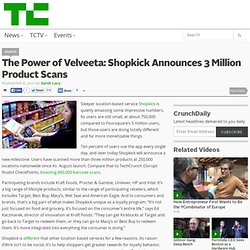 The Power of Velveeta: Shopkick Announces 3 Million Product Scans
Sleeper location-based service Shopkick is quietly amassing some impressive numbers. Its users are still small, at about 750,000 compared to Foursquare's 5 million users, but those users are doing totally different and far more monetizable things. Ten percent of users use the app every single day, and later today Shopkick will announce a new milestone: Users have scanned more than three million products at 250,000 locations nationwide since its August launch. Compare that to TechCrunch Disrupt finalist CheckPoints, boasting 600,000 barcode scans.
When it comes to deals, the bigger the discount, the further people will travel. While this may sound obvious, mobile advertising company JiWire has some numbers to back it up. JiWire is releasing a new study today that evaluates consumers; behavior when it comes to location-based deals and discounts. In a survey of more than 3,000 respondents, JiWire's results show that the greater the discount, the further people will travel to redeem a coupon or promotion.
Discovering The Distance-to-Discount Ratio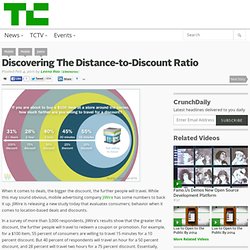 Gilt City, luxury e-tailer Gilt Groupe's foray into local deals, has been quietly expanding in beta across the country in the past month or so, as we have written about here and here. Today, the flash local deals site officially launches initiatives in Boston, Chicago and Miami (in addition to New York, SF, and LA, where it's already live). While in the same social shopping space as Groupon, Gilt City's deals go live no matter how many people opt in.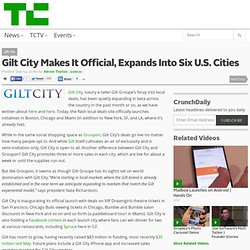 Gilt City Makes It Official, Expands Into Six U.S. Cities
Au lieu de 171.00€ 10 Acheteurs 5j 01h 36m 13s 109.00€ Passeport périmé… ce n'est pas grave du tout. On peut faire sans.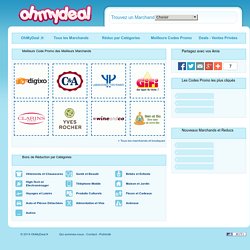 [Exclu] Les bons plans d'OhMydeal disponibles sur Ipad
Due to the proliferation of deals sites like Groupon and Livingsocial, couponing is currently the hottest thing on the Internet. At yesterday's Social Currency CrunchUp, TechCrunch CEO and resident coupon expert Heather Harde sat down with News America Marketing VP Ginny Byrnes to dispense couponing advice to startups, which tend to approach the problem from a technical perspective. As we enter the next generation of couponing, this list of tried and true lessons is a must-read for those vying for the top of the heap. 10. There are two types of shoppers: Planners and impulse buyers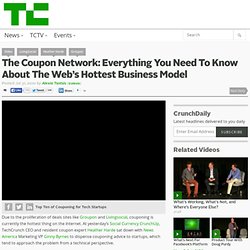 The Coupon Network: Everything You Need To Know About The Web's Hottest Business Model
Digital Couponing Startup SaveWave Scores $2.3M From Leading Investors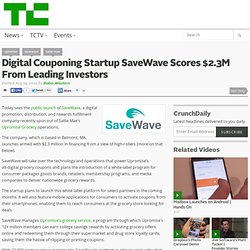 Today sees the public launch of SaveWave, a digital promotion, distribution, and rewards fulfillment company recently spun out of Sallie Mae's Upromise Grocery operations. The company, which is based in Belmont, MA, launches armed with $2.3 million in financing from a slew of high-rollers (more on that below). SaveWave will take over the technology and operations that power Upromise's all-digital grocery coupons and plans the introduction of a white-label program for consumer packages goods brands, retailers, membership programs, and media companies to deliver nationwide grocery rewards. The startup plans to launch this white label platform for select partners in the coming months.
Sign Up Now for CauseOn Notifications!