BlackBerry
BlackBerry service down again in Europe, Middle East, Africa: Twice in two days. Research in Motion issued a statement that BlackBerry services were "operating normally" after a service crash affected users across Europe, the Middle East and Africa, but many customers are still seeing downtime.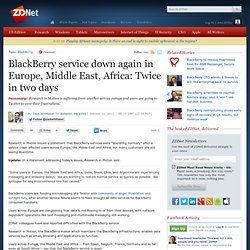 Update: In a statement addressing today's issues, Research in Motion said: "Some users in Europe, the Middle East and Africa, India, Brazil, Chile, and Argentina are experiencing messaging and browsing delays. We are working to restore normal service as quickly as possible. We apologise for any inconvenience this has caused. " Un commutateur de coeur de réseau à l'origine des pannes des services BlackBerry. Le retour à la normal des services de mail, d'accès web et de messagerie instantanée sur BlackBerry prédit par RIM dans un communiqué semble prendre un peu plus de temps que prévu.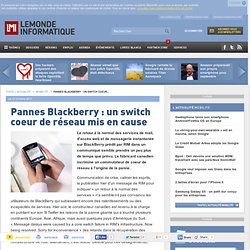 Le fabricant canadien incrimine un commutateur de coeur de réseau à l'origine de la panne. Communication de crise, calmer les esprits, la publication hier d'un message de RIM pour indiquer « un retour à la normal des services » n'a semble-t-il pas convaincu les utilisateurs de BlackBerry qui subissaient encore des ralentissements ou des incapacités de services. Hier soir, le constructeur canadien est revenu à la charge en publiant sur son fil Twitter les raisons de la panne géante qui a touché plusieurs continents Europe, Asie, Afrique, mais aussi quelques pays d'Amérique du Sud. « Message delays were caused by a core switch failure in RIM's infrastructure.
Now being resolved. BlackBerry Outage: RIM Faces Technical Glitches For A Third Day. TORONTO — Technical glitches that have affected millions of BlackBerry users around the world spread to Canada on Wednesday morning as outages were reported for the smartphone's text and email services by some users.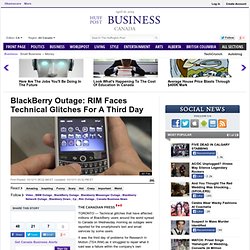 It was the third day of problems for Research In Motion (TSX:RIM) as it struggled to repair what it said was a failure within the company's own infrastructure. The list of affected regions included Europe, the Middle East, Africa and some areas of South America, as well as Asian markets including Hong Kong, Japan, Singapore and India. RIM has about 70 million BlackBerry subscribers around the world. The outage spread to Canada on Wednesday with users posting messages on Twitter that said they were unable to access their email, text and Internet browsing services. The networks appeared to return to normal in Canada briefly before crumbling again. Why Is BlackBerry Service Down? RIM is still having problems maintaining BlackBerry services such as BBM and e-mail around the world.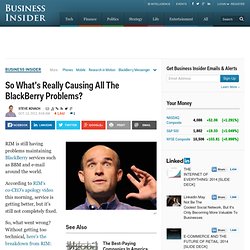 According to RIM's co-CEO's apology video this morning, service is getting better, but it's still not completely fixed. So, what went wrong? Abu Dhabi Traffic Accidents Dropped 40% During the BlackBerry Outage. There's some surprising good news to come out of the BlackBerry's maligned worldwide outage: fewer car accidents in the United Arab Emirates.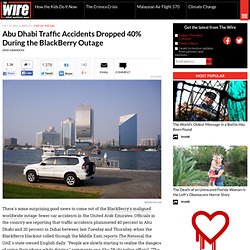 Officials in the country are reporting that traffic accidents plummeted 40 percent in Abu Dhabi and 20 percent in Dubai between last Tuesday and Thursday, when the BlackBerry blackout rolled through the Middle East, reports The National, the UAE's state-owned English daily. "People are slowly starting to realise the dangers of using their phone while driving," comments one Abu Dhabi police official. "The roads became much safer when BlackBerry stopped working.
" RIM's Last Bullet. It hasn't been an easy year for RIM.
The Playbook came out half-baked, their handset line has taken a pummeling from its ambitious competitors, the businesses and governments of the world are alternately hassling and blaming them, and as if that wasn't enough, they just had a catastrophic global network failure and their olive branch is unlikely to fend off lawsuits. Did someone at RIM HQ break a mirror back in 2008?