Satellites
Satellite Phone Communications | Home. Iridium Communications. Iridium Communications Inc.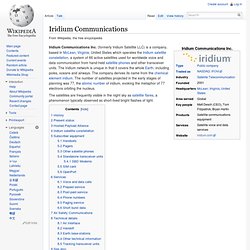 (formerly Iridium Satellite LLC) is a company, based in McLean, Virginia, United States which operates the Iridium satellite constellation, a system of 66 active satellites used for worldwide voice and data communication from hand-held satellite phones and other transceiver units. The Iridium network is unique in that it covers the whole Earth, including poles, oceans and airways. The company derives its name from the chemical element iridium. The number of satellites projected in the early stages of planning was 77, the atomic number of iridium, evoking the metaphor of 77 electrons orbiting the nucleus.
Satellite Services - SES.com. SES S.A. SES S.A. is a global satellite owner and operator based in Betzdorf, Luxembourg and is listed on the Luxembourg Stock Exchange and Euronext Paris under the ticker symbol SESG.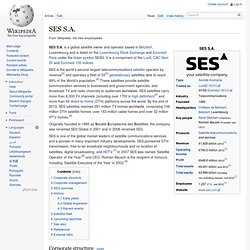 It is a component of the LuxX, CAC Next 20 and Euronext 100 indices. SES is the world's second-largest telecommunications satellite operator by revenue[2] and operates a fleet of 55[3] geostationary satellites able to reach 99% of the World's population.[4] These satellites provide satellite communication services to businesses and government agencies, and broadcast TV and radio channels to audiences worldwide. SES satellites carry more than 6,000 TV channels (including over 1700 in high definition)[5] and more than 40 direct-to-home (DTH) platforms across the world. By the end of 2013, SES satellites reached 291 million TV homes worldwide, comprising 106 million DTH satellite homes, over 153 million cable homes and over 32 million IPTV homes.[6] Home - LightSquared. Space Politics » LightSquared, problems squared.
By Jeff Foust on 2011 June 23 at 7:57 am ET It's tough enough to raise the billions of dollars needed to build out a nationwide hybrid satellite/terrestrial wireless network, as LightSquared has found.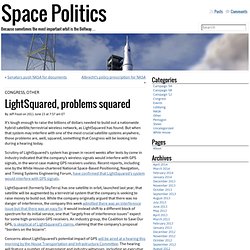 But when that system may interfere with one of the most crucial satellite systems anywhere, those problems are, well, squared, something that Congress will be looking into during a hearing today. Scrutiny of LightSquared's system has grown in recent weeks after tests by come in industry indicated that the company's wireless signals would interfere with GPS signals, in the worst case making GPS receivers useless. Recent reports, including one by the White House-chartered National Space-Based Positioning, Navigation, and Timing Systems Engineering Forum, have confirmed that LightSquared's system would interfere with GPS signals. LightSquared. LightSquared is a company that seeks to develop a wholesale 4G LTE wireless broadband communications network integrated with satellite coverage across the United States using a block of frequencies located near the band used by the Global Positioning System (GPS).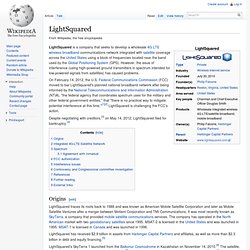 However, the issue of interference (using high-powered ground transmitters in spectrum intended for low-powered signals from satellites) has caused problems. On February 14, 2012, the U.S. Surrey Satellite Technology Ltd (SSTL) Surrey Satellite Technology. Surrey Satellite Technology Ltd, or SSTL, is a spin-off company of the University of Surrey, now majority-owned by EADS Astrium, that builds and operates small satellites.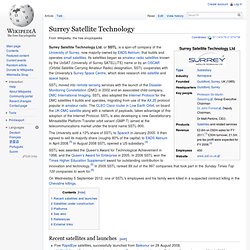 Its satellites began as amateur radio satellites known by the UoSAT (University of Surrey SATELLITE) name or by an OSCAR (Orbital Satellite Carrying Amateur Radio) designation. SSTL cooperates with the University's Surrey Space Centre, which does research into satellite and space topics.
---