Maps hyperlocal
Smashing Labs - gMap, Google Maps jQuery plugin - examples
Simple map with marker Displays a simple map with controls and adds one marker.
CreativeApplications.Net reports innovation and catalogues projects, tools and platforms at the intersection of art, media and technology.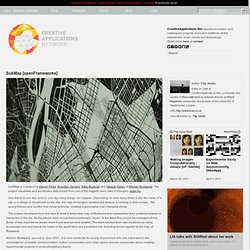 Places in the city emotionally 'closer' visualised and sonified by Kitchen Budapest #foursquare #openframeworks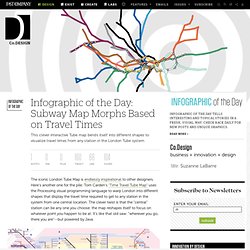 Infographic of the Day: Subway Map Morphs Based on Travel Times | Co.Design
The iconic London Tube Map is endlessly inspirational to other designers.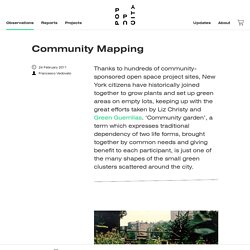 Community Mapping
Thanks to hundreds of community-sponsored open space project sites, New York citizens have historically joined together to grow plants and set up green areas on empty lots, keeping up with the great efforts taken by Liz Christy and Green Guerrillas . 'Community garden', a term which expresses traditional dependency of two life forms, brought together by common needs and giving benefit to each participant, is just one of the many shapes of the small green clusters scattered around the city. Historically strictly linked to economical conditions and social health (Green Guerrillas were born in a period of deep crisis), these small, open projects are nowadays a collector of the energies and enthusiasm of the neighborhood, and therefore cannot be measured in strictly economic, social, psychological or political terms.
OpenStreetMap, les routards du web #1 : A la carte !
Les codes QR mettent le désordre public dans Paris ! | Graphisme & interactivité blog par Geoffrey Dorne
Bonjour Ce matin, je vous présente une utilisation vraiment intéressante des codes QR.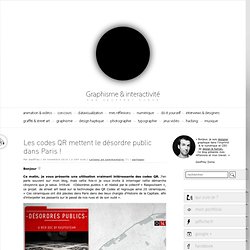 Les Trucs — ♦
Yellow Arrow - Projects