Maps hyperlocal
Smashing Labs - gMap, Google Maps jQuery plugin - examples. Simple map with marker Displays a simple map with controls and adds one marker.
The viewport gets centered automatically. Loading... Different map type Changes the map type to physical view. Places in the city emotionally 'closer' visualised and sonified by Kitchen Budapest #foursquare #openframeworks. SubMap is a project by Dániel Feles, Krisztián Gergely, Attila Bujdosó and Gáspár Hajdu at Kitchen Budapest.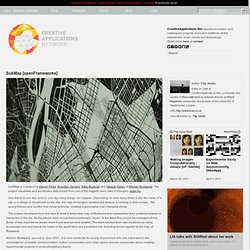 The project visualises and sonificates data pulled from one of the biggest news sites of Hungary, origo.hu. One frame is one day, and on one day many things can happen. Depending on how many times a day the name of a city or a village is mentioned on the site, the map of Hungary dynamically distorts according to that number. Infographic of the Day: Subway Map Morphs Based on Travel Times | Co.Design. The iconic London Tube Map is endlessly inspirational to other designers.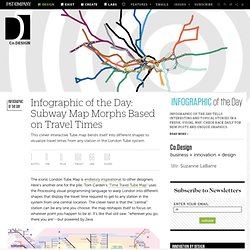 Here's another one for the pile: Tom Carden's "Time Travel Tube Map" uses the Processing visual programming language to warp London into different shapes that display the travel time required to get to any station in the system from one central location. The clever twist is that the "central" station can be any one you choose: the map reshapes itself to focus on whatever point you happen to be at. It's like that old saw: "wherever you go, there you are"--but powered by Java. What London looks like to God. OpenStreetMap, les routards du web #1 : A la carte ! «Comment peut-on passer de 100 000 à un million de contributeurs ?»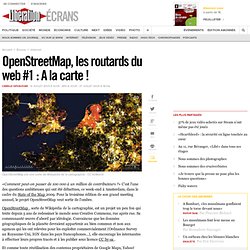 C'est l'une des questions ambitieuses qui ont été débattues, ce week-end à Amsterdam, dans le cadre du State of the Map 2009. Pour la troisième édition de son grand meeting annuel, le projet OpenStreetMap veut sortir de l'ombre. Les codes QR mettent le désordre public dans Paris. Bonjour Ce matin, je vous présente une utilisation vraiment intéressante des codes QR.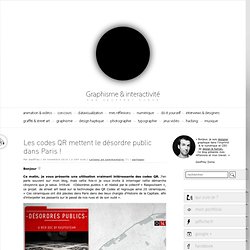 J'en parle souvent sur mon blog, mais cette fois-ci je vous invite à interroger cette démarche citoyenne que je salue. Intitulé »Désordres publics » et réalisé par le collectif « Raspouteam », ce projet de street art basé sur la technologie des QR Codes et regroupe ainsi 20 céramiques. « Ces céramiques ont été placées dans Paris dans des lieux chargés d'Histoire de la Capitale. afin d'interpeller les passants sur le passé de nos rues et de son oubli ».
C'est simple et efficace. J'imagine également diffuser de cette façon, des secrets d'Etat, des vidéos de manifestation, etc. Les Trucs — ♦ Marker/music. Yellow Arrow - Projects.
---