01
JSatTrak - Java Satellite Tracker by Shawn Gano. By: Shawn Gano JSatTrak is a Satellite tracking program written in Java.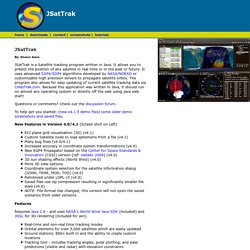 It allows you to predict the position of any satellite in real time or in the past or future. It uses advanced SGP4/SDP4 algorithms developed by NASA/NORAD or customizable high precision solvers to propagate satellite orbits. The program also allows for easy updating of current satellite tracking data via CelesTrak.com. We Choose the Moon: Celebrating the 40th Anniversary of the Apollo 11 Lunar Landing. Sky Chart. For your security, we ask that all previously registered website members reset their passwords on this new site*.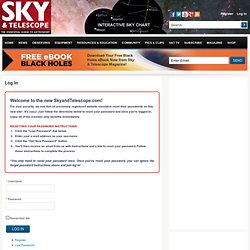 It's easy! Just follow the directions below to reset your password and once you're logged in, enjoy all of the member-only benefits immediately. Click the "Lost Password" link belowEnter your e-mail address as your usernameClick the "Get New Password" buttonYou'll then receive an email from us with instructions and a link to reset your password. Follow those instructions to complete the process. *You only need to reset your password once. Recent scenes from the ISS. Photopic Sky Survey.
---