Digitome
Though free basic education policy adopted by the government of Cameroon in 2000, many children remain out of school or dropout mid-way into their training program due to financial constraints. While more than 90% of school-age children enrolled are in primary school in 2009, less than half completed education and the problem persist to date. After a year into implementation, Goodness and Mercy Missions is sponsoring the education of 313 needy children in Belo community through its project entitled "Children Education through Women Empowerment"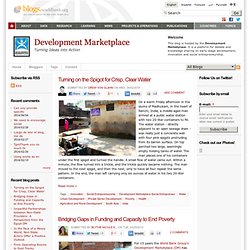 Development Marketplace | Turning Ideas into Action
The mobiThinking compendium of mobile statistics and research The Compendium of global mobile stats received 975,298 pageviews in 2012, check out mobiThinking's other compelling reads of last year: Most popular content on mobiThinking in 2012 . The stats, all the stats and nothing but the stats… In the past three years, we have gone from a smattering of mobile statistics to an abundance of useful information. But there's still a long way to go, there are still huge gaps in our knowledge, some countries enjoy a proliferation of data sources, while others have little or none; and the quality of statistics varies incredibly. As telecoms regulators and industry associations start to collect and share meaningful data, things will only get better.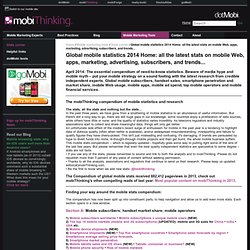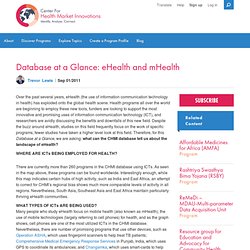 Database at a Glance: eHealth and mHealth | Center for Health Market Innovations (CHMI)
Over the past several years, eHealth (the use of information communication technology in health) has exploded onto the global health scene. Health programs all over the world are beginning to employ these new tools, funders are looking to support the most innovative and promising uses of information communication technology (ICT), and researchers are avidly discussing the benefits and downfalls of this new field. Despite the buzz around eHealth, studies on this field frequently focus on the work of specific programs; fewer studies have taken a higher level look at this field. Therefore, for this Database at a Glance , we are asking: what can the CHMI database tell us about the landscape of eHealth? WHERE ARE ICTs BEING EMPLOYED FOR HEALTH? There are currently more than 260 programs in the CHMI database using ICTs.
GE launches multi-pronged $1B cancer initiative
GE has launched a new initiative aimed at accelerating cancer innovation and improving care for 10 million patients around the world by 2020. As part of Thursday's announcement, GE is sponsoring a $100 million open innovation challenge to identify and bring to market ideas that advance breast cancer diagnostics. As part of its healthymagination initiative, GE's Chairman and CEO Jeff Immelt, alongside several venture capital partners, announced that GE will invest $1 billion over the next five years on R&D programs to expand its suite of advanced technologies and solutions for cancer detection and treatment, beginning with breast cancer.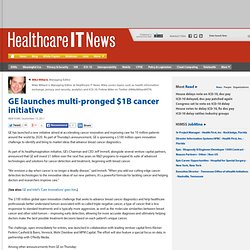 Medical App Explosion: TR's picks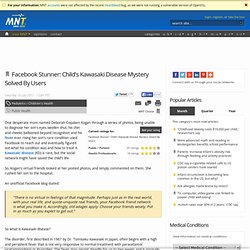 One desperate mom named Deborah Copaken Kogan through a series of photos, being unable to diagnose her son's eyes swollen shut, his chin and cheeks ballooned beyond recognition and his ever rising her son's rare condition used Facebook to reach out and eventually figured out what his condition was and how to treat it. (KD) is rare, but the social network might have saved the child's life. So, Kogan's virtual friends looked at her posted photos, and simply commented on them.
Facebook Stunner: Child's Kawasaki Disease Mystery Solved By Users
Kaiser Health News