Brain Discipline
BrainAthlete
Charinging BrainAthlete Re-Chargeable Lithium Ion Batteries are built in BrainAthlete. Charging Plug in the Mini-USB side of the cable in to the socket on the front side of BrainAthlete, and the other side into any USB port. When charging, a blue light will be flashing, and turns off when complete.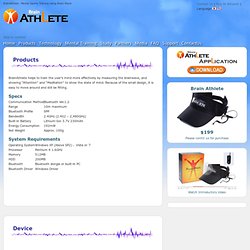 We at Neurogadget try to give you all around coverage of the consumer neurotech industry, but It's still a rare treat to get to hear from the companies making apps and devices themselves. This week we're bringing you a Q & A session with Chad Veinotte, director of neurogaming at Personal Neuro Devices (PND), the company that brought us UpCake, the first mind-controlled game for Android. We asked him about their latest title Neuronauts, the development process, the neurotech market, and what makes PND tick. Read the rest of this entry »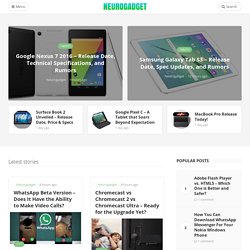 When Gaming Is Good for You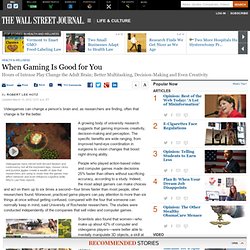 Updated March 13, 2012 12:01 a.m. ET Videogames can change a person's brain and, as researchers are finding, often that change is for the better. A growing body of university research suggests that gaming improves creativity, decision-making and perception. The specific benefits are wide ranging, from improved hand-eye coordination in surgeons to vision changes that boost night driving ability. People who played action-based video and computer games made decisions 25% faster than others without sacrificing accuracy, according to a study.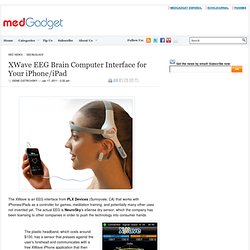 XWave EEG Brain Computer Interface for Your iPhone/iPad
0inShare The XWave is an EEG interface from PLX Devices (Sunnyvale, CA) that works with iPhones/iPads as a controller for games, meditation training, and potentially many other uses not invented yet. The actual EEG is NeuroSky's eSense dry sensor, which the company has been licensing to other companies in order to push the technology into consumer hands. The plastic headband, which costs around $100, has a sensor that presses against the user's forehead and communicates with a free XWave iPhone application that then shows your brain waves graphically on the iPhone screen. As you focus your mind on a task the graphics are changed — a ball may move higher for instance, or your state of relaxation may be indicated by changes in a pulsating color, which moves towards blue as you become more relaxed.
I'm close to tears behind my thin cover of sandbags as 20 screaming, masked men run towards me at full speed, strapped into suicide bomb vests and clutching rifles. For every one I manage to shoot dead, three new assailants pop up from nowhere. I'm clearly not shooting fast enough, and panic and incompetence are making me continually jam my rifle. My salvation lies in the fact that my attackers are only a video, projected on screens to the front and sides. It's the very simulation that trains US troops to take their first steps with a rifle, and everything about it has been engineered to feel like an overpowering assault.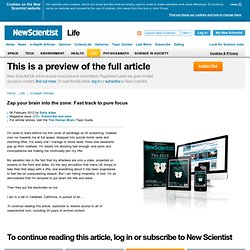 Ten psychological findings that challenge our intuitive view of how our minds work. Some critics say psychology is just common sense, that it only confirms things we already know about ourselves. Ironically this can be difficult to argue with because once people get some new information they tend to think it was obvious all along. One way of battling this is to think about all the unexpected, surprising and plain weird findings that have popped out of psychology studies over the years.