Presse israélienne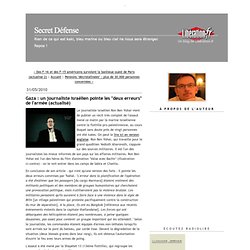 Le journaliste israélien Ron Ben Yishai vient de publier un récit très complet de l'assaut mené ce matin par la marine israélienne contre la flottille pro-palestinienne, au cours duquel sans doute près de vingt personnes ont été tuées. On peut le lire ici en version anglaise. Ron Ben Yishai, qui travaille pour le grand quoditien Yedioth Aharonoth, s'appuie sur des sources militaires. Il est l'un des journalistes les mieux informés de son pays sur les affaires militaires. Ron Ben Yishai est l'un des héros du film d'animation "Valse avec Bachir" (illustration ci-contre) - on le voit entrer dans les camps de Sabra et Chatila.
Gaza : un journaliste israélien pointe les "deux
Ron Ben Yishai recounts bloody clash aboard Gaza-bound vessel: The lacking crowd-dispersal means, the brutal violence of 'peace activists,' and the attempt to bring down an IDF helicopter Our Navy commandoes fell right into the hands of the Gaza mission members. A few minutes before the takeover attempt aboard the Marmara got underway, the operation commander was told that 20 people were waiting on the deck where a helicopter was to deploy the first team of the elite Flotilla 13 unit.
A brutal ambush at sea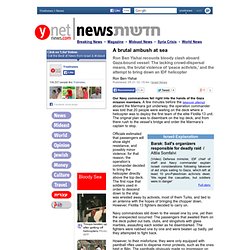 "A qui la faute ?" s'interroge, mardi 1er juin, le journal Maariv. Au lendemain de l'abordage meurtrier d'un convoi maritime à destination de Gaza par l'arméee, le deuxième quotidien israélien note que "tout le monde blâme tout le monde" : les militaires, le ministère de la défense, les passagers de la flottille, les services de renseignement... Mais au-delà de cette bataille des responsabilités, Israël a "déjà perdu la bataille des opinions publiques", poursuit le quotidien du soir, tandis que le Jerusalem Post remarque que l'armée s'ingénie à publier des documents accréditant sa version des faits, comme la vidéo diffusée lundi après-midi sur la chaîne de télévision Aroutz 2 où l'on voit notamment un soldat israélien jeté par-dessus bord.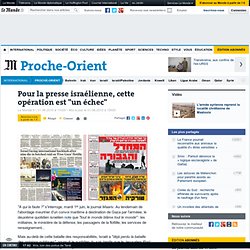 Pour la presse israélienne, cette opération est "un échec" - LeM
A failure any way you slice it - Haaretz Daily Newspaper | Israe
Analysis: From now on, it gets harder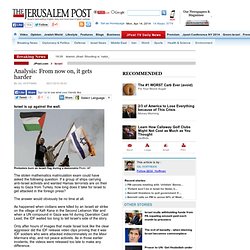 The stolen mathematics matriculation exam could have asked the following question: If a group of ships carrying anti-Israel activists and wanted Hamas terrorists are on their way to Gaza from Turkey, how long does it take for Israel to get attacked in the foreign press? The answer would obviously be no time at all. As happened when civilians were killed by an Israeli air strike on the village of Kafr Kana in the Second Lebanon War and when a UN compound in Gaza was hit during Operation Cast Lead, the IDF waited too long to tell Israel's side of the story. Only after hours of images that made Israel look like the clear aggressor did the IDF release video clips proving that it was IDF soldiers who were attacked indiscriminately on the Mavi Marmara ship, and not peace activists.
Articles Ariel Sharon: His Sabra and Shatila Legacy – An Eye Witness Account By Felicity Arbuthnot and Dr. Ang Swee Chai As Israel buried Ariel Sharon amid eulogies from world figures, Tony Blair, a Butcher of Baghdad, paid…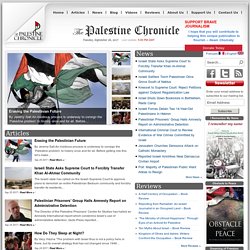 Israeli PR disaster, again - Israel Opinion, Ynetnews
Israeli commandos: Gaza flotilla crew tried to lynch us - Haaret
Text size An activist holding a knife aboard a Gaza-bound aid ship on May 31, 2010. Photo by Provided by IDF Spokesperson's Unit related articles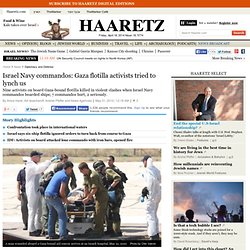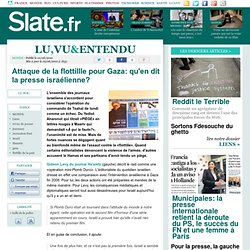 Attaque de la flottillle pour Gaza: qu'en dit la presse israélie
L'ensemble des journaux israéliens s'accordent pour considérer l'opération du commando de Tsahal de lundi comme un échec. Du Yediot Aharonot qui titrait «PIÈGE» en lettres rouges à Maariv qui demandait «À qui la faute?», l'unanimité est de mise. Mais de fortes nuances se dégagent quant au bienfondé même de l'assaut contre la «flottille». Quand certains éditorialistes dénoncent la violence de l'armée, d'autres accusent le Hamas et ses partisans d'avoir tendu un piège.
Israel, stop apologizing - Israel Opinion, Ynetnews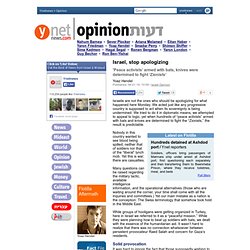 Israelis are not the ones who should be apologizing for what happened here Monday. We acted just like any progressive country is supposed to act when its sovereignty is being undermined. We tried to do it in diplomatic means, we attempted to appeal to logic, yet when hundreds of "peace activists" armed with bats and knives are determined to fight the "Zionists," the result is predictable.
Operation Mini Cast Lead