Wordpress Tools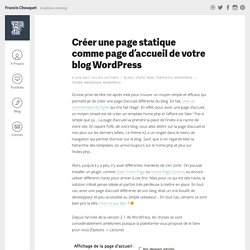 Grosse prise de tête cet après-midi pour trouver un moyen simple et efficace qui permettrait de créer une page d'accueil différente du blog.
Créer une page statique comme page d'accueil de votre blog Wordpress
Migrating Multiple Blogs into WordPress 3.0 Multisite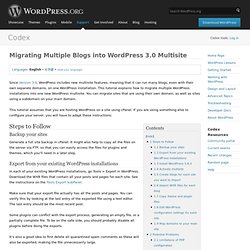 Installation de WordPress 3.0 Multisite avec option sous-domaines : tutoriels, conseils, problèmes et solutions « Bloody Marie
Comme je vous en parlais il y a quelques jours, j'ai profité de la configuration de mon nouveau nom de domaine pour mettre en place la fonctionnalité multisite de WordPress. Le principal intérêt étant, avec une seule installation de WordPress, de gérer plusieurs sites/blogs. Ainsi, à chaque mise à jour de WordPress, vous n'aurez plus qu'une seule mise à jour à faire ! Youpiii ! 8)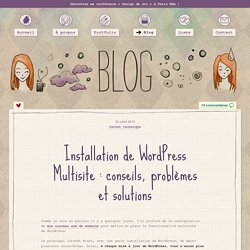 Find the answers to your questions, discover sites that proof them Plaintxt is a huge database of questions and answers on any topics, supported by links to independent sources. Here you can ask your question and review similar questions available; you can check sites referenced in questions and answers. See also: Minimalism in blog design, an experiment I am considering placing the tempdir of my MySQL database onto a ramdisk under Linux.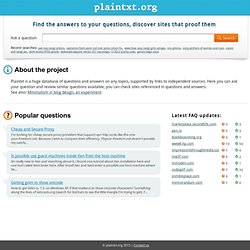 Minimalism in blog design, an experiment