Ruby
Read Ruby 1.9: Free Ebook About the Ruby Programming Language
Array (Read Ruby 1.9)
A MiniTest::Spec Tutorial: Elegant Spec-Style Testing That Comes With Ruby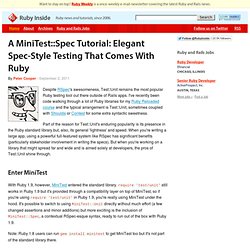 Despite RSpec's awesomeness, Test::Unit remains the most popular Ruby testing tool out there outside of Rails apps. I've recently been code walking through a lot of Ruby libraries for my Ruby Reloaded course and the typical arrangement is Test::Unit, sometimes coupled with Shoulda or Contest for some extra syntactic sweetness. Part of the reason for Test::Unit's enduring popularity is its presence in the Ruby standard library but, also, its general 'lightness' and speed. When you're writing a large app, using a powerful full-featured system like RSpec has significant benefits (particularly stakeholder involvement in writing the specs).
Ruby the Red Gem of Programming - Ruby Thoughts for Mortals (Unless Specifically Otherwise Denoted!)
Front page - APIdock
Ruby 1.9.3 Standard Library Documentation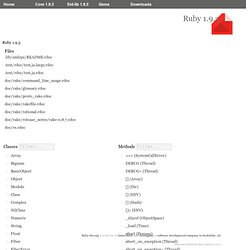 Index of Classes & Methods in Ruby 1.9.3 (Ruby 1.9.3)
There were 3 Ruby vulnerability reports in the last 14 days. 1 medium, 2 low. Most recent: CVE-2014-1234. See details. Ruby 1.9.3
Satish Talim Ruby Evangelist
A Ruby Learning Hub
Blog — All about Ruby programming.
Registrations are now open for RubyLearning's "Pay if you like", online course on "Programming the Web with Ruby". The first batch had over 2000 participants. Web-based applications offer many advantages, such as instant access, automatic upgrades, and opportunities for collaboration on a massive scale. However, creating Web applications requires different approaches than traditional applications and involves the integration of numerous technologies.