Ruby
Read Ruby 1.9: Free Ebook About the Ruby Programming Language
Array (Read Ruby 1.9)
A MiniTest::Spec Tutorial: Elegant Spec-Style Testing That Comes With Ruby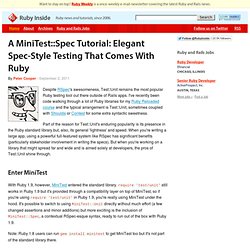 Despite RSpec's awesomeness, Test::Unit remains the most popular Ruby testing tool out there outside of Rails apps. I've recently been code walking through a lot of Ruby libraries for my Ruby Reloaded course and the typical arrangement is Test::Unit, sometimes coupled with Shoulda or Contest for some extra syntactic sweetness. Part of the reason for Test::Unit's enduring popularity is its presence in the Ruby standard library but, also, its general 'lightness' and speed. When you're writing a large app, using a powerful full-featured system like RSpec has significant benefits (particularly stakeholder involvement in writing the specs).
Ruby the Red Gem of Programming - Ruby Thoughts for Mortals (Unless Specifically Otherwise Denoted!)
Front page - APIdock
Ruby 1.9.3 Standard Library Documentation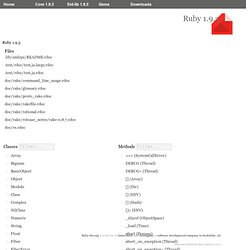 Index of Classes & Methods in Ruby 1.9.3 (Ruby 1.9.3)
There were 3 Ruby vulnerability reports in the last 14 days. 1 medium, 2 low. Most recent: CVE-2014-1234. See details. Ruby 1.9.3
Support for Ruby version 1.9.3 will end on February 23, 2015 Today we are announcing our plans for the future of Ruby version 1.9.3. Continue Reading... Posted by hsbt on 10 Jan 2014 Ruby 2.1.0 is released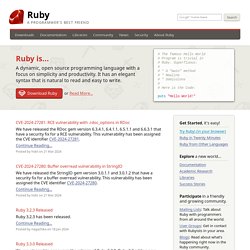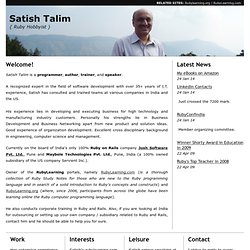 Satish Talim is a programmer, author, trainer, and speaker. A recognized expert in the field of software development with over 35+ years of I.T. experience, Satish has consulted and trained teams at various companies in India and the US. His experience lies in developing and executing business for high technology and manufacturing industry customers. Personally his strengths lie in Business Development and Business Networking apart from new product and solution ideas. Good experience of organization development. Excellent cross disciplinary background in engineering, computer science and management.
Satish Talim Ruby Evangelist
By Satish Talim RubyLearning.com is a thorough collection of Ruby Study Notes for those who are new to the Ruby programming language and in search of a solid introduction to Ruby's concepts and constructs - ruby-lang.org. Speed up your Ruby programming learning process by joining 1000s of other would-be Ruby developers around the globe at the Online RubyLearning Class. Step through the convenient lessons related to 'Ruby' and post your Ruby-related queries, questions and the RubyLearning team shall explain and solve them for you. The Ruby eBook contains all the Core Ruby topics covered on this site.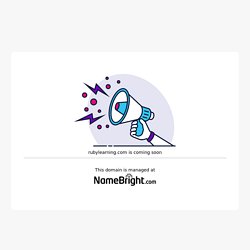 A Ruby Learning Hub
Blog — All about Ruby programming.
The Wonderful Tech Wizards of Oz Photo by David Jackmanson / Flickr The Information and Communication Technology sector is the fifth highest paying career group in Australia, with entry salaries starting at $88,000 and median salaries of $100,000. This ranking is both because of, and contributes to, Australia's growing IT leadership.