JournalingScrapbookin
How to bind your own Hardback Book. The art of book binding is an ancient craft, but actually it is not very difficult to do and with almost no practice you can get really awesome results.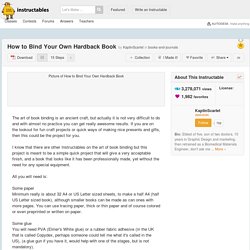 If you are on the lookout for fun craft projects or quick ways of making nice presents and gifts, then this could be the project for you. I know that there are other Instructables on the art of book binding but this project is meant to be a simple quick project that will give a very acceptable finish, and a book that looks like it has been professionally made, yet without the need for any special equipment. All you will need is: An easy way to make cute notebooks! Today I didn't feel like doing anything but I gave myself a kick in the proverbial and made a little notebook.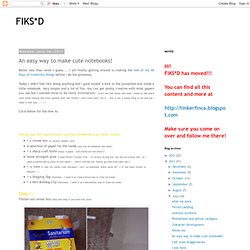 Very simple and a lot of fun. You can get pretty creative with what papers you use but I wanted mine to be fairly minimalistic. (Let's not talk about the mess I made in the spare room while making this little number shall we? Really, I don't know how I do it... this is not a messy thing to do and yet I make it that way... >. < ) Longstitch Bookbinding Tutorial for a Leather Journal | tortagialla.
The most common type of sewn bookbinding that I often default to, falls into the category of longstitch binding.
It's really a general categorization for many different methods of sewn binding. People have invented their own patterns and techniques and have probably called it something else as well. Suffice to say, it's a general way to denote sewing your paper to the cover of your book. I'm sure you've noticed journals out there with exposed sewing in the binding in a variety of patterns and designs. The Southern Institute: Mini Memo Book Covers from Larissa at mmmcrafts. Welcome to The Southern Institute, I'm so glad you're here!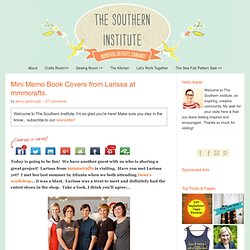 Make sure you stay in the know... subscribe to our newsletter! Today is going to be fun! A good weekend to diy. Glass Marble Magnet Tutorial. Nifty Ribbon & Button No Slip Bookmark | Fab You Bliss. Cards. Feb21 Trending: Shibori Hand Dyed Indigo Silk Shibori Scarf by Lizard Land // Black Shibori Oversized Foldover Clutch by Aiko Threads // Original Shibori Fabric Notecards by Cape Cod Shibori.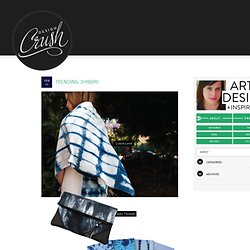 Bokmärken – Craft of the Day, bookmarks. Du behöver: Kuvert (återanvänd gärna gamla kuvert), ett ark med vitt papper (för mallen), sax, penna, lim och ett mönstrat papper.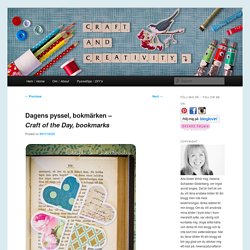 Inspiration till detta pyssel kommer från The Creative Homemaker. Fler varianter på samma tema finns här och här. Gör så här: Vik ett enkelt vitt papper diagonalt. Art Journaling: Supplies. I know a lot of people who list journaling as something they'd like to do.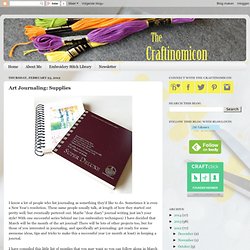 Sometimes it is even a New Year's resolution. These same people usually talk, at length of how they started out pretty well, but eventually puttered out. Maybe "dear diary" journal writing just isn't your style! With one successful series behind me (on embroidery techniques) I have decided that March will be the month of the art journal! There will be lots of other projects too, but for those of you interested in journaling, and specifically art journaling: get ready for some awesome ideas, tips and tricks to make this a successful year (or month at least) in keeping a journal. Happy Valentines Day! This year I made this adorable gift for my boyfriend.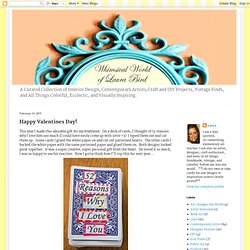 On a deck of cards, I thought of 52 reasons why I love him soo much (I could have easily come up with 1000 <3) I typed them out and cut them up. Some cards I glued the white paper on and cut out patterned hearts. The other cards I backed the white paper with the same patterned paper and glued them on. Tumblr_lw1mtjN9EK1qz82b6o1_500.png (448×488) DIY Hand Stitching, part 1.
One of my favorite crafts is hand stitching-- it's fun, addictive, expressive and relaxing :) Over the next few weeks, I'm going to share easy ways to make your own patterns for hand stitching along with some tips and ideas :) These are some samples of my past projects-- I like to draw patterns freehand and use my handwriting.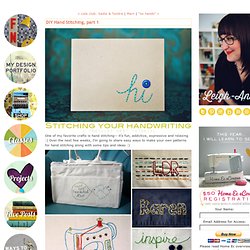 However, sometimes I adapt clipart type images to make a more complicated pattern, like the sewing machine or I just stitch the outline of an image I love, like the Goonies "Hey You Guys" silhouette :) I use a Back Stitch for all my hand stitching because it's very versatile and I like the look but you can use any combination of stitches for your projects... there's lots of fun ones! Today, we're going to start with handwriting & transferring your pattern :)
Gift Ideas, Unique Gifts and Personalised Gifts.
---