My Life
Chinese Gender Chart, Chinese Pregnancy Calendar, Chinese Gender Predictor Calculator. This Chinese gender calendar -- found in an ancient royal tomb near Beijing, according to legend -- is said to be over 90 percent accurate as a baby gender predictor.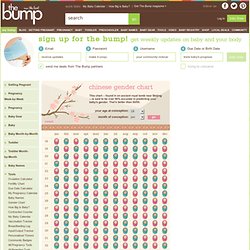 Hey, those odds are better than fifty-fifty! To use our super-cute Chinese gender chart, just type in your age at conception and your month of conception and hit go. Pregnancy: week-by-week calendar and free pregnancy tickers. Workout Log - Track your Workouts Free, Get Motivated, Get Fit. Beautiful naked girls with tattoos - punk rock girls, goth girls, emo girls, tattoo girls - SuicideGirls. Korie Angela Booher (Monster) on Myspace. Where Professional Models Meet Model Photographers - ModelMayhem.
My 50 things to do in my lifetime.
---