Language sites
L1. Topic-Comment sentence pattern #1 | Busyatom.com
Dear Korean, My name is The English Teacher. The English Teacher has a question for The Korean. The English Teacher read the Korean's recent post about the interesting 바보 Ray . In that post, The Korean said that he came to America at the age of 16, without knowing English.
The Korean's English Acquisition, and the Best Method to Master a Foreign Language, Guaranteed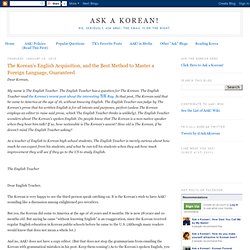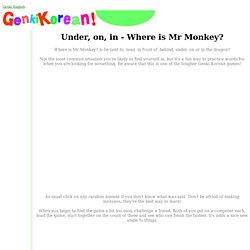 Prepositions in Korean. How to speak Korean for free by playing games!
Where is Mr Monkey? Is he next to, near, in front of, behind, under, on or in the dragon? Not the most common situation you're likely to find yourself in, but it's a fun way to practice words for when you are looking for something.
KBS WORLD Radio
Summer Intensive Korean Series « My Korean Corner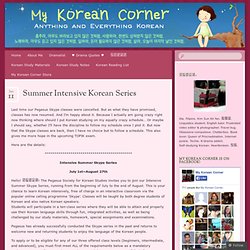 Last time our Pegasus Skype classes were cancelled. But as what they have promised, classes has now resumed. And I'm happy about it. Because I actually am going crazy right now thinking where should I put Korean studying on my equally crazy schedule… Or maybe I should say, whether I'll have the discipline to follow my schedule once I plot it. But now that the Skype classes are back, then I have no choice but to follow a schedule.
Homework Exercises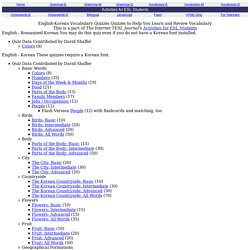 English-Korean Vocabulary Quizzes
<CENTER><a href="http://a4esl.org/">a4esl.org</a></CENTER><P> English-Korean Vocabulary Quizzes Quizzes to Help You Learn and Review Vocabulary This is a part of The Internet TESL Journal's Activities for ESL Students <HR NOSHADE SIZE=99><h1>Warning</h2><B>These quizzes require a JavaScript-enabled browser.</b><BR><TT>You have JavaScript disabled or a browser that doesn't support JavaScript.
Guide to learn languages
Learn Korean Online – Simple Explanations in PLAIN English
This site was originally designed to help the students who were taking Korean classes from Dr. Oh. Here are some services that may help your Korean. Korean for Fun This page is a crash course of Korean, designed for those who need Korean words and phrases for unexpected reasons, yet urgently, or just for fun. Korean Classes Korean Classes contain short step-by-step materials for you to study Korean with.
Home