Facts
Advice for Learning Vocabulary. From Saint Louis University First, it is often helpful to have some kind of "hook" (i.e., mnemonic or memory-device) to help you to retrieve the word or meaning that you want to remember.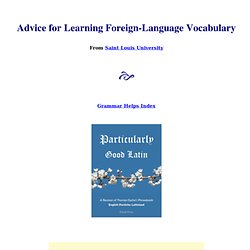 Second, you need practice in recalling the word. Third, you need to hear, see, and understand the word repeatedly in its various forms and in its most typical contexts. Practica Quaedam. Www.ncssfl.org/papers/BenefitsSecondLanguageStudyNEA.pdf. How to Improve Your Memory: Tips and Exercises to Boost Brainpower. Harnessing the power of your brain They say that you can't teach an old dog new tricks, but when it comes to the brain, scientists have discovered that this old adage simply isn't true.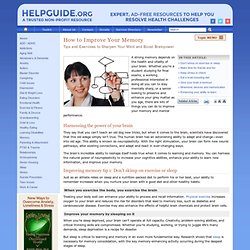 The human brain has an astonishing ability to adapt and change—even into old age. This ability is known as neuroplasticity. With the right stimulation, your brain can form new neural pathways, alter existing connections, and adapt and react in ever-changing ways. The brain's incredible ability to reshape itself holds true when it comes to learning and memory. How to Make a Mind Map®
The 'Laws of Mind Mapping' were originally devised by Tony Buzan when he codified the use of imagery, colour and association and coined the phrase 'Mind Mapping'.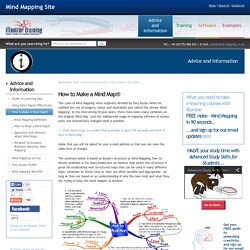 In the intervening 30 plus years, there have been many variations on the original 'Mind Map ' and the widespread usage of mapping software of various sorts, has dramatically changed what is possible. >> Click here to go to a video that provides a rapid (99 second) overview of how to Mind Map. (Note that you will be asked for your e-mail address so that you can view the video free of charge). Learning Styles.
---