Widgets
Zooshia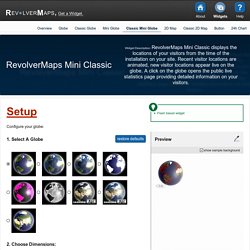 Revolver Maps - Free 3D Visitor Maps
RevolverMaps Mini The mini version of the RevolverMaps Service displays all visitor locations and recent hits live and in realtime. A click on the widget opens the live statistics page. Configure your globe: 5.
Butns.com - We love multiple choices
Addoursearch.com - Free and Easy Browser Search Installation Widgets ...