Video
Online Video Editor - EditorOne Mashup Maker | Ideum
Totlol - Video for Kids. Infants, Toddlers, Preschoolers, Grade School ...
This is a list of films available under a Creative Commons license. Qualification for inclusion: Having a wikipedia article is a good qualifier for inclusion on this page. Though not having one probably shouldn't be a disqualifier. And, almost obviously, they must have a CC licensed version. For another resource see http://en.wikipedia.org/wiki/Open_content_film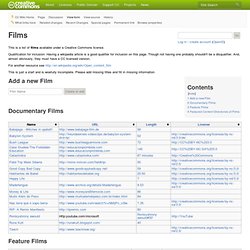 Films
YUDOmagic - Magic Videos - Share and Learn Street Magic, Card ...
60 Second Adventures in Thought
Jim Henson on Making Puppets