Video
Home | TV411. Online Video Editor - EditorOne Mashup Maker | Ideum. Totlol - Video for Kids. Infants, Toddlers, Preschoolers, Grade School ... The Open Video Project. Australian National Film and Sound Archive.
Films. This is a list of films available under a Creative Commons license.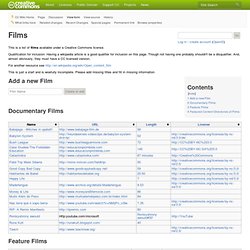 Qualification for inclusion: Having a wikipedia article is a good qualifier for inclusion on this page. Though not having one probably shouldn't be a disqualifier. And, almost obviously, they must have a CC licensed version. For another resource see. YUDOmagic - Magic Videos - Share and Learn Street Magic, Card ... Smarter Every Day Channel. High Speed video.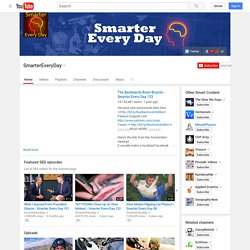 Cats. Physics. Weightlessness. Of all my videos, if you don't share this one, you probably never will. Please consider sharing by clicking here: GiGi was not hurt during the making of this video. 60 Second Adventures in Thought. Jim Henson on Making Puppets. Cute Roulette: Cutest videos on the web.
---