Sustainability
TreeHugger. DATA Report 2011. With fewer than 1,000 days to go until the 2015 deadline for the Millennium Development Goals (MDGs), ONE's new Special Report Tracking Development Assistance, explores overall trends in official development assistance (ODA) and shows how donor countries are doing in their efforts to support Africa.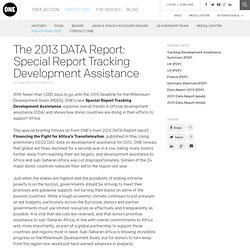 This special briefing follows on from ONE's main 2013 DATA Report report, Financing the Fight for Africa's Transformation, published in May. Using preliminary OECD DAC data on development assistance for 2012, ONE reveals that global aid flows declined for a second year in a row, taking many donors further away from reaching their aid targets, and development assistance to Africa and sub-Saharan Africa was cut disproportionately. Sixteen of the 24 major donor countries reduced their aid to the region last year. Ecosia - The green search. The EnviroLink Network. Care2.
GoodGuide. The Story of Stuff.
---