Space
The Days (And Years) Of Our Lives Looking at the numbers above, you'll immediately notice that you are different ages on the different planets. This brings up the question of how we define the time intervals we measure. What is a day?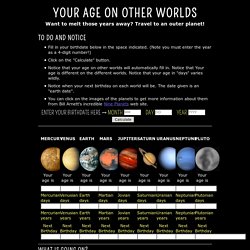 Apollo 11 - Moon - Sightseeings - Moon - Arounder
Interactive Universe
Ancient Observatories: Chaco Canyon
Welcome to the Cassiopeia Project
NASA 360 Episodes
50th Anniversary of NASA
Education
The NASA Education Materials Finder is unavailable due to an ongoing Web services transition at NASA. Please use the following options to locate NASA's educational resources.

Star Viewer: an interactive map of the night sky