Socialnetworking
Welcome to Eat With Me - Connecting People Through Food
Throwplace
infostripe / build it, share it, connect it all.
CollabFinder Groups give your community membersa place to team up and launch projects. New York City uses CollabFinder to help New Yorkers team up and build important new apps and and startups. The Cleanweb Initiative uses CollabFinder to help people who care about clean energy build new apps and projects together. UC Berkeley uses CollabFinder to help engineering, design, and business school students find cofounders for their projects and startups.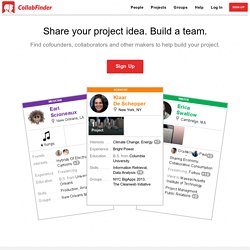 Statelounge - Follow your favorite countries.
Flink12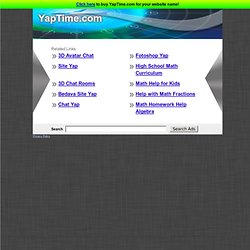 Post events and important dates to keep the group connected. You can even RSVP and schedule event reminders. Photo's, videos and files can be saved and shared in a centralized location.
Enterprise Social Software | Wikis, Microblogging & Feeds ...
Simple on the surface. Sophisticated in the soul. You are free to choose any set of features from our ever-increasing functionality pool. You can go live instantly with predefined website model or configure every single feature to death. We are proud how we managed to make it meet the needs of any level. Groups, events, private messaging, video chat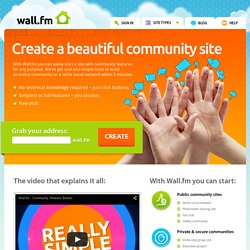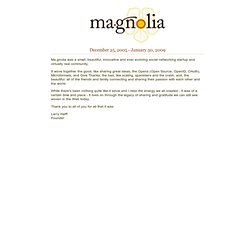 Ma.gnolia was a small, beautiful, innovative and ever evolving social networking startup and virtually real community. It wove together the good, like sharing great ideas, the Opens (Open Source, OpenID, OAuth), Microformats, and Give Thanks; the bad, like scaling, spammers and the crash; and, the beautiful: all of the friends and family connecting and sharing their passion with each other and the world. While there's been nothing quite like it since and I miss the energy we all created - it was of a certain time and place - it lives on through the legacy of sharing and gratitude we can still see woven in the Web today. Thank you to all of you for all that it was. Larry Halff Founder
ffwd | your personal remote control for video on the web
4 November 2013 - Final victory of Team Vacansoleil-DCM on Curacao! With a solo finish Johnny Hoogerland provided Team Vacansoleil-DCM its last victory in the Amstel Curacao Race. As the team did not find new sponsors for the 2014 season and beyond it is the last time this shirt crossed the finish line. Hoogerland, the Dutch National Champion, announced last week that he will continue his carreer in Italy next year.