Projectmanagement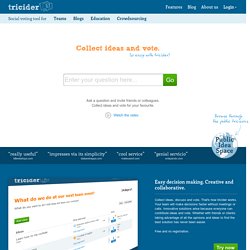 Find the best solution by involving your friends, colleagues or clients. A feedback session with customers or the decision on the new logo. tricider is the easiest way, to gather all opinions and ideas. It´s brainstorming and voting, all in one and online!
tricider - perfect decision making in teams
Solutions
WorkFlowy has become one of three tabs that I keep open in my browser, along with Gmail and Google Calendar. ~ Matt Cutts Head of Webspam, Google Prediction: WorkFlowy and Quora will each revolutionise significant parts of education in the next 5 years. ~ David Langer Co-Founder & CEO, GroupSpaces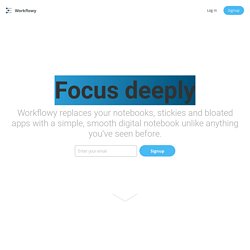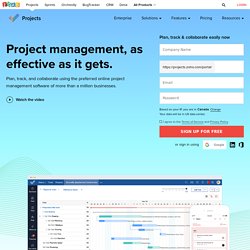 Work Better Together Unlock your team's potential by giving them the freedom to collaborate when and how they want—using Wiki, Forums and Chat. See What's Ahead Feeds keeps your finger on the pulse of every project.
Web-based Project Management and Collaboration Tool Online | Zoho Projects
Free Student Collaboration Tool - Podio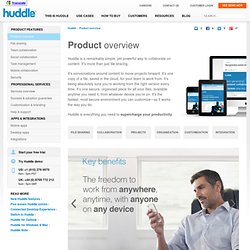 Product overview Huddle is a remarkably simple, yet powerful way to collaborate on content. It's more than just file sharing.
Exvo