Ppt
Knovio | Online Video Presentations Made Easy | PowerPoint + Webcam. Signup. MyBrainshark - Add your voice to presentations, share online, and track viewing | myBrainshark. What is myBrainshark?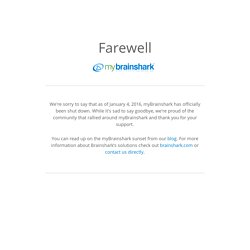 Create online video presentations, then share & track them with ease! Promote yourself or your cause, share your expertise, or browse eLearning content. How It Works...Upload a PowerPoint or other file to create a video presentation, then add your voice using a telephone, microphone, or mp3s! Create Video in Moments...In seconds you can turn your existing static content into powerful, voice-enriched, trackable videos!
Myplick. Webcasting made easy. PowerPoint search engine with thumbnail results - SlideFinder. Valuable expertise on demand – rich business content and presentations ... Sounds for PowerPoint, PowerPoint Sounds, PowerPoint 2002, Macintosh. Sound can add character to a presentation -- it's easy to bring a presentation to life with sound of any kind, be it a background score, a narration or an event sound.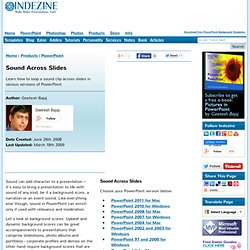 Like everything else though, sound in PowerPoint can enrich only if used with relevance and moderation. Let's look at background scores. Upbeat and dynamic background scores can be great accompaniments to presentations that comprise slideshows, photo albums and portfolios - corporate profiles and demos on the other hand require background scores that are more understated and soft.
Adding a background score to a PowerPoint presentation is easy, although the technique is a little different across various versions. 280 Slides - Create & Share Presentations Online.
---