Philosophy
Teaching with TED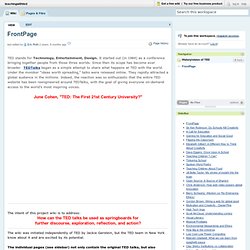 TED stands for Technology, Entertainment, Design. It started out (in 1984) as a conference bringing together people from those three worlds. Since then its scope has become ever broader. TEDTalks began as a simple attempt to share what happens at TED with the world. Under the moniker "ideas worth spreading," talks were released online. They rapidly attracted a global audience in the millions. "Take a look. No matter who you are, you are bound to find something that will drive you crazy." —The New York Times, January 14, 2014 "A forum for the world's most brilliant minds."—The Guardian, January 12, 2014 White Peony 2014 by Katinka MatsonClick to Expand | www.katinkamatson.com
FairSpin reveals the bias behind today's news. 1 hour ago Boehner and Cantor Meet Again With Obama — The two top House Republicans met privately with President Obama at the White House on Sunday as the House prepared to vote on a deficit-cutting measure strongly opposed by the White House. — Officials said that Speaker John A. Boehner … Leans Left 8 min ago Elizabeth Warren to 'think' about Senate run against Brown — Elizabeth Warren, the Harvard law professor tapped by President Obama to set up the new Consumer Financial Protection Bureau (CFPB), said Monday she would think about running for Sen.
FairSpin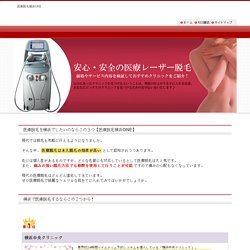 November, 2008: The Indiana Philosophy Ontology Project (InPhO) is pleased to announce the release of the beta version of its Taxonomy Browser at http://inpho.cogs.indiana.edu/taxonomy/. This web-based service provides a simple navigation scheme for investigating related philosophical concepts, and provides an easy single-click interface for conducting focused searches on philosophical topics at the Stanford Encyclopedia of Philosophy, Noesis, Google Scholar, and the entire web via Google. We welcome comments and feedback on improving this interface at inpho@indiana.edu.
NOESIS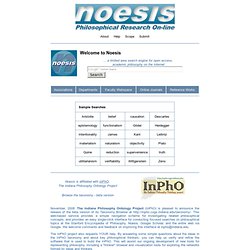 Tenets of Democracy>Critical Thinking and Decision Making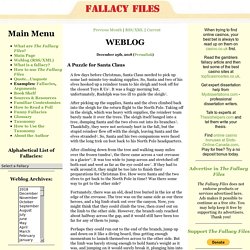 January 15th, 2014 (Permalink) How to Misread a Poll Here's Slate's David Weigel yesterday, in an article titled "Poll: Christie's GOP Approval Numbers Up Since Start of Scandal": [Christie's]…chief political adviser…[said] that Christie was getting "positive, proactive" feedback from Republicans. You laugh…but then you look at the Monmouth poll, the only one taken in New Jersey since the scandal began.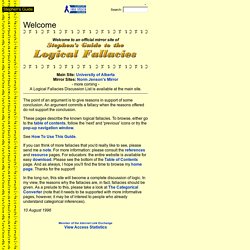 Welcome The point of an argument is to give reasons in support of some conclusion. An argument commits a fallacy when the reasons offered do not support the conclusion.
The Logical Fallacies: Welcome