Philosophy
Debate.org | Debate, Online Debates, Internet Debates, and ...
Teaching with TED
FairSpin
NOESIS
Tenets of Democracy>Critical Thinking and Decision Making
[based on A Database of Informal Fallacies , copyright 1987 by Dr. Charles Ess.] The names of logical fallacies organized below are linked to more extensive documents made up of examples of the designated fallacy and (occasionally) explanation and discussion of the fallacy. These are collected here primarily for student review and consideration. (Also: some of the links will take you empty pages; I anticipate that these will eventually be filled in.) Warning!
Fallacies Overview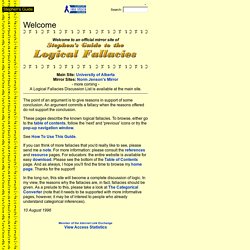 Welcome The point of an argument is to give reasons in support of some conclusion. An argument commits a fallacy when the reasons offered do not support the conclusion.
The Logical Fallacies: Welcome