Philosophy
Teaching with TED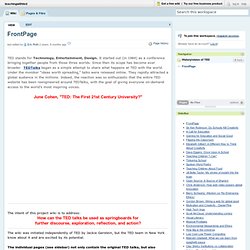 TED stands for Technology, Entertainment, Design. It started out (in 1984) as a conference bringing together people from those three worlds. Since then its scope has become ever broader. TEDTalks began as a simple attempt to share what happens at TED with the world. Under the moniker "ideas worth spreading," talks were released online. They rapidly attracted a global audience in the millions. Larry Page, Google and Katinka Matson, Edge, at The Edge Dinner 2014 in Vancouver A new generation of artists, writing genomes as fluently as Blake and Byron wrote verses, might create an abundance of new flowers and fruit and trees and birds to enrich the ecology of our planet. Most of these artists would be amateurs, but they would be in close touch with science, like the poets of the earlier Age of Wonder. The new Age of Wonder might bring together wealthy entrepreneurs ... and a worldwide community of gardeners and farmers and breeders, working together to make the planet beautiful as well as fertile, hospitable to hummingbirds as well as to humans. —Freeman Dyson In his 2009 talk at the Bristol Festival of Ideas, Freeman Dyson pointed out that we are entering a new Age of Wonder, which is dominated by computational biology.
FairSpin reveals the bias behind today's news. 1 hour ago Boehner and Cantor Meet Again With Obama — The two top House Republicans met privately with President Obama at the White House on Sunday as the House prepared to vote on a deficit-cutting measure strongly opposed by the White House. — Officials said that Speaker John A. Boehner … Leans Left 8 min ago Elizabeth Warren to 'think' about Senate run against Brown — Elizabeth Warren, the Harvard law professor tapped by President Obama to set up the new Consumer Financial Protection Bureau (CFPB), said Monday she would think about running for Sen.
FairSpin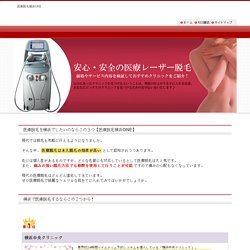 November, 2008: The Indiana Philosophy Ontology Project (InPhO) is pleased to announce the release of the beta version of its Taxonomy Browser at http://inpho.cogs.indiana.edu/taxonomy/. This web-based service provides a simple navigation scheme for investigating related philosophical concepts, and provides an easy single-click interface for conducting focused searches on philosophical topics at the Stanford Encyclopedia of Philosophy, Noesis, Google Scholar, and the entire web via Google. We welcome comments and feedback on improving this interface at inpho@indiana.edu.
NOESIS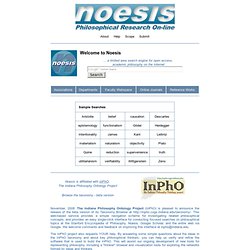 Tenets of Democracy>Critical Thinking and Decision Making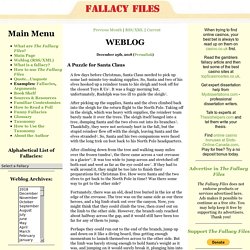 April 18th, 2014 (Permalink) In the Mail: Emotive Language in Argumentation The latest book by the prolific and influential Douglas Walton, in collaboration with philosopher Fabrizio Macagno, arrived today. I haven't read it yet, of course, but it appears at first glance to concern the use of loaded language―that is, words and phrases that carry an emotional charge in addition to their literal meaning. A related topic addressed is persuasive definitions, which are designed not merely to explain the meaning of a word, but also to influence or express an attitude towards that meaning, often through the use of emotionally-charged language.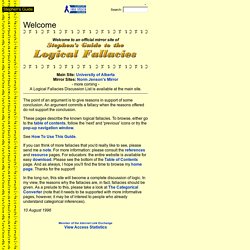 Welcome The point of an argument is to give reasons in support of some conclusion. An argument commits a fallacy when the reasons offered do not support the conclusion.