Mathematics 1
What2Learn. XtraMath. Thinking Blocks - Model and Solve Math Word Problems. FlakePad. BaseTen - The Learning Box. Free Math Help.com. Goofram - Search Google and Wolfram Alpha at the same time!
GCSE Bitesize - Games index. PSToM - Parents, Student, Teachers of Mathematics ( Algebra-1 ) StudyJams. :: zondle (beta) – games to support learning :: Table of Contents. Puzzles, Games, Brain Teasers, Free Games for Kids: Free ... The Clickable Spacesuit. BBC DIY Science - Make your own catapult. Copyrighted image Credit: The Open University Open2.net fades away...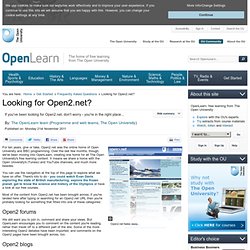 For ten years, give or take, Open2.net was the online home of Open University and BBC programming. Over the last few months, though, we've been moving into OpenLearn, creating one home for all The Open University's free learning content. It means we share a home with the Open University's iTunesU and YouTube channels, and much more besides. You can use the navigation at the top of this page to explore what we have on offer. Structures: Building Activities for Kids. Virtual Nerd. Super Maths World. MathsMaster. Mathtrain.TV. Math Forum @ Drexel. World Math Day - www.worldmathday.com - World Education Games. Dare to Compare-NCES Kids' Zone.
Math Teaching Videos. Rader's NUMBERNUT.COM. Arcademic Skill Builders: Online Educational Games. Our Projects. Math.com - World of Math Online. MathMovesU | making middle school math fun. Fuel the Brain | Educational Resources and Games. Mimioconnect.com, a community for teachers and educators, a resource ... Math Run - how fast is your brain? A simple Brain Training Game for everyone.
Khan Academy. Wolfram|Alpha. Mycrocosm. Lesson Plan, Lesson Plans For K-12 Teachers. Lesson Plans and Teacher Timesavers - Huge Collection - Instant Lessons View Collection Need Tons of New Worksheets?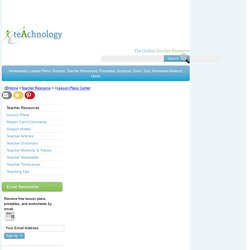 - 50,000+ printables - Save Time! Free lesson plans, homework help and professional development for ... The Why Files | The Science Behind the News. The Teachers Corner. Geometry Practice at Math.com. NY Regents Test Prep Centre. Jefferson Lab. Welcome to the Virginia State Standards of Learning Practice Tests!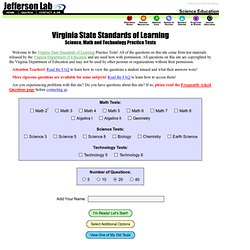 All of the questions on this site come from test materials released by the Virginia Department of Education and are used here with permission. All questions on this site are copyrighted by the Virginia Department of Education and may not be used by other persons or organizations without their permission. Attention Teachers! Read the FAQ to learn how to view the questions a student missed and what their answers were! More rigorous questions are available for some subjects!
Lesson Plans at FREE --Federal Resources for Educational Excellence. Cool math 4 kids - math games, math puzzles, math lessons - designed ... Math For Kids - By KidsNumbers.com.
---