Audiobooks
Internet Archive: Details: George-Orwell-1984-Audio-book
Candlelight Stories Audio for Kids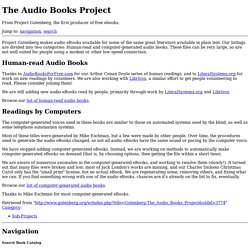 From Project Gutenberg, the first producer of free ebooks. Project Gutenberg makes audio eBooks available for some of the same great literature available in plain text. Our listings are divided into two categories: Human-read and computer-generated audio books. These files can be very large, so are not well suited for people using a modem or other low-speed connection. Human-read Audio Books Thanks to AudioBooksForFree.com for our Arthur Conan Doyle series of human readings, and to LiteralSystems.org for work on new readings by volunteers.
Rent or Download Audio Books | Simply Audiobooks
Internet Archive: Naropa Poetics Audio Archives
The Spoken Alexandria Project - Free Audio from Telltale Weekly
AudioBooks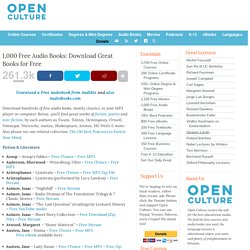 Try Audible Now and Get A FREE Audiobook! Download hundreds of free audio books, mostly classics, to your MP3 player or computer. Below, you'll find great works of fiction, non-fiction and poetry. Fiction & Literature Aesop – Aesop's Fables – Free iTunes – Free MP3 – FREE from Audible Asimov, Isaac – "Nightfall" – Free MP3 – FREE from Audible.com Asimov, Isaac - The Foundation Trilogy (dramatized version) – Free Stream – Free Zip File Asimov, Isaac – "The Last Question" – YouTube Austen, Jane – Emma – Free iTunes – Free MP3 – FREE from Audible Free eBook available here.