Art_history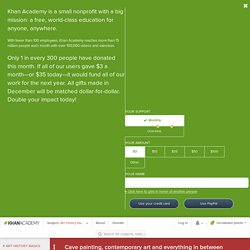 Are you an art historian, archaeologist or conservator? Look at a Trello Board of most needed content and "claim" an essay to write! If something important is missing, let us know. Contact us to be added to the Trello Board: beth[at }khanacademy.org or steven[at ]khanacademy.org.
How Art Made the World . Resources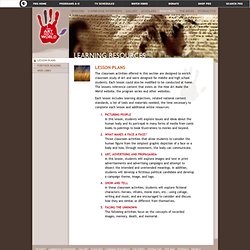 The classroom activities offered in this section are designed to enrich classroom study of Art and were designed for middle and high school students. Each lesson could also be modified to be conducted at home. The lessons reference content that exists on the How Art Made the World website, the program series and other websites. Each lesson includes learning objectives, related national content standards, a list of tools and materials needed, the time necessary to complete each lesson and additional online resources.
Download or borrow teaching packets, classroom activities, and videos. Find information about guided school tours, learn about outreach programs for local students, or enroll in our teacher workshops or the summer Teacher Institute. Resources for Teachers If you are looking for the Flash interactives that previously were offered in NGAClassroom, or if you'd like some suggestions for lessons related to the NGAkids interactives on this page, use the link below: Classroom Interactives: Ancient Arcade, Cake Maker, Mobile Maker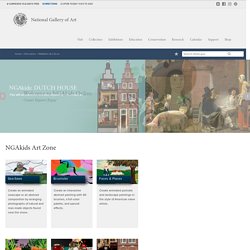 Inside Art: An Art History Game
Icons (from the Greek eikones) are sacred images representing the saints, Christ, and the Virgin, as well as narrative scenes such as Christ's Crucifixion. While today the term is most closely associated with wooden panel painting, in Byzantium icons could be crafted in all media, including marble, ivory, ceramic, gemstone, precious metal, enamel, textile, fresco, and mosaic. Icons ranged in size from the miniature to the monumental. Some were suspended around the neck as pendants,...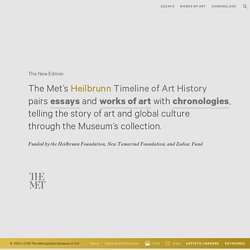 Museum of Modern Art - Lesson Plans
Online MoMA Learning Whether you're are a teacher, student, or lifelong learner, MoMA Learning is your destination for tools and strategies for engaging with modern and contemporary art. Download and customize slide shows, worksheets, and other resources for use in the classroom or for independent study. View detail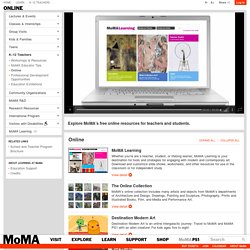 The Pre-Raphaelites