Anatomy
WebGL not supported This product uses WebGL, which your browser does not appear to support. Possible reasons: Your Web browser actually doesn't support WebGL.Check this page for a list of browsers that do.Your video driver or operating system is not supported.To ensure fast performance and prevent crashes, some browsers that support WebGL deactivate it for particular video driver and operating system versions. (For some browsers it is possible to override this -- you can manually turn WebGL back on by changing a setting. Do so at your own risk.)
Real 3D Anatomy Home
Welcome to Real 3D Anatomy, a collaboration between Creative Dimension Software Ltd and the Centre for Comparative and Clinical Anatomy at the University of Bristol. On this site you can currently view two 3D presentations of canine (dog) anatomy in your browser. The main presentation is a complete 3D dog bone set. We've also included a demonstration of work in progress that shows the main organs of the dog thorax.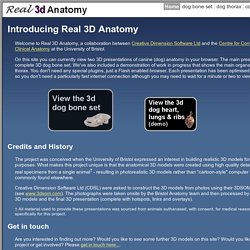 Anatomy Arcade makes basic human anatomy come ALIVE through awesome free flash games, interactives and videos. Anatomy Arcade is perfect for the novice teenager in the classroom, right through to students and professionals of health care looking for a fun way to revise. With the help of Media Saints, we plan on making many more iPad apps.
Baboons live in African woodland savannas, and subsist on roots, tubers, grasses, seeds, and fruit, but also hunt animals smaller than themselves. The three genera of baboons, Mandrillus, Papio, and Theropithecus, are not closely related and differ in morphology and behavior. Papio cynocephalus has a dog-like muzzle and a yellowish-brown coat of fur.