Site Tools
DevDocs. Camera | a free jQuery slideshow by Pixedelic. A simple slide This is the "simple anathomy" of a slide: Captions You can add a caption to the slide, just put a div with class "camera_caption" into the div above: <div data-src="images/image_1.jpg"><div class="camera_caption">The text of your caption</div></div> By adding one more class to the "camera_caption" div you can decide the effect of the caption.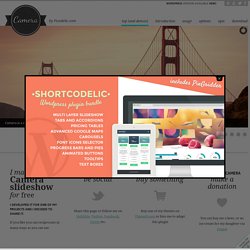 Web Hosting Service by IX. Shared, VPS and Cloud Hosting | IX Web Hosting. Magento Shipping Country Codes | Beetleweb Blog. We set up a lot of Magento Shipping Rates and import these using CSV's.
These use Magento Country Codes which can come in a two or three digit version. Oddly enough I found the main resources for these codes to be divided into a two digit code and a three digit code columns, neither that easy to use. So I created my own Magento Country Code table with both variations for easier use. I thought i'd share this with you: Configuring IMAP Account in Outlook 2010 : Workspace Support Center. IMAP: Folder structure and Junk E-mail filter. In my IMAP account, the default mail folders like Inbox, Sent Items, Deleted Items, etc are subfolders of my Inbox folder.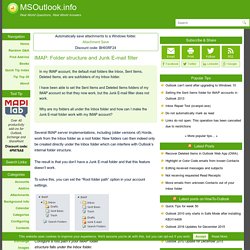 I have been able to set the Sent Items and Deleted Items folders of my IMAP account so that they now work, but the Junk E-mail filter does not work. Why are my folders all under the Inbox folder and how can I make the Junk E-mail folder work with my IMAP account? Several IMAP server implementations, including (older versions of) Horde, work from the Inbox folder as a root folder. Free Document Conversion Network: PDF, Excel, Word, Text, Images…
A 1st of its kind Innovation means Faster Conversions for You Express Conversion Options More about CCN.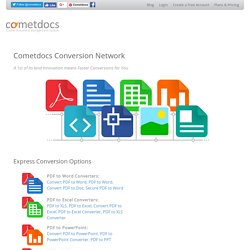 Set up Outlook 2010. Updated on April 08, 2014 at 11:04 PM Introduction Whether you're switching to Outlook 2010 — or starting fresh — we'll make it very easy to get it up and running.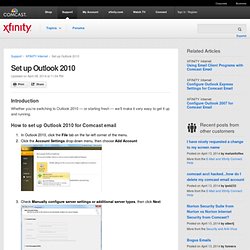 How to set up Outlook 2010 for Comcast email. Ning – Create a Social Networking Site with Ning, the Best Social Site Platform.
Design. Ecommerce. Website Widgets and Tools. SEO. Video to Flash Converter - Convert video to Flash, Movie to Flash with Moyea. Moyea Video to Flash Converter Studio helps to convert video to flash video (FLV and H.264) then add the output flash video to website with skinnable flash video player. 1, Convert video to flash video with Moyea Video4Web Moyea Video4Web Converter, a totally free video to flash video converter, offers excellent solution for the multiple requirements to convert all the fashion video to flash video files (FLV, MP4, 3GP, MOV) so that video share site like YouTube supports, most Mobile phone supports, and Adobe Flash Player supports for Moyea Web Player.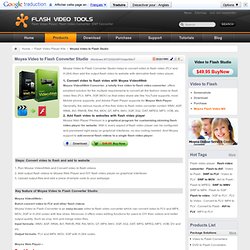 Generally, the various inputs of this free video to flash video converter contain WMV, ASF, WMA, AVI, RMVB, RM, RA, MOV, QT, MP4, M4V, 3GP, 3G2, DAT, MPEG, MP3, VOB, etc.
---