Script/Query
Example Features No images, no external CSS No dependencies (jQuery is supported, but not required) Highly configurable Resolution independent Uses VML as fallback in old IEs Uses @keyframe animations, falling back to setTimeout() Works in all major browsers, including IE6 MIT License Spin.js dynamically creates spinning activity indicators that can be used as resolution-independent replacement for AJAX loading GIFs.
I've put together a nice little collection of scripts over the past year or so, and have decided as it's approaching summer in the UK (sorry winter in Australia!) to do a download bundle of 20 assorted scripts where you can get the lot in one click for free! Although donations are also much appreciated. Check out the list below for all the details of the package. This collection is based on a variety of different techniques, from CSS, PHP jQuery to MySQL.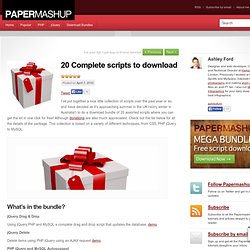 BlockUI Plugin Simulate synchronous ajax by blocking - not locking - the UI. This plugin lets you block user interaction with the page or with a specific element on the page. Also great at displaying modal dialogs. Corner Plugin Rounded corners without images!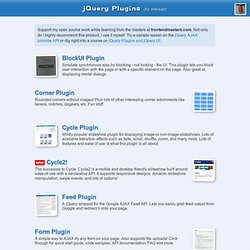 jQuery Plugins by malsup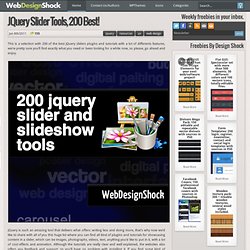 This is a selection with 200 of the best jQuery sliders plugins and tutorials with a lot of differents features, we're pretty sure you'll find exactly what you need or been looking for a while now, so please, go ahead and enjoy. jQuery is such an amazing tool that delivers what offers: writing less and doing more, that's why now we'd like to share with all of you this huge list where you can find all kind of plugins and tutorials for showcasing content in a slider, which can be images, photographs, videos, text, anything you'd like to put in it, with a lot of cool effects and animation. Although the tutorials are really clear and well explained, the websites also offers you feedback and support, so you'll have no problem with installing it.