Presentaciones eficaces
La muerte por Power Point y las presentaciones como imagen corpo
Algunos consejos para presentaciones eficaces | desire
30 Quick Tips For Speakers (now 35!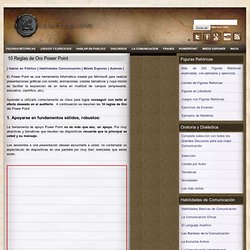 10 Reglas de Oro Power Point
| Hablar en Público | Habilidades Comunicación | Miedo Exponer | Autores | Power Point es una herramienta informática creada por Microsoft para realizar presentaciones gráficas con sonido, animaciones, colores llamativos y cuya misión es facilitar la exposición de un tema en multitud de campos (empresarial, educativo, científico, etc). Aprender a utilizarlo correctamente es clave para lograr conseguir con éxito el efecto deseado en el auditorio .
Free as in Freedom: 5 Tips to help you Plan your Next Presentati
"Presentation is the 'Killer Skill' we take into the real world.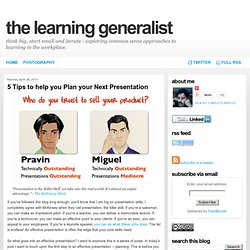 In today's blogpost I want to touch upon one of my other favourite topics - presentations.
Free as in Freedom: 6 Mistakes you should never make as a Presen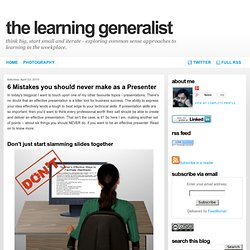 Within the visual channel of an eLearning course, you communicate through the elements on the screen—the graphics, text and video.
How To Create A Visual Hierarchy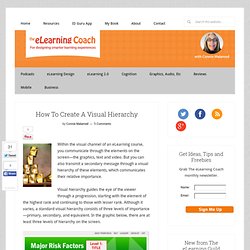 Gimp (teknepolis)
Egongela I
Si tu presentación me aburre, no te prestaré más de 10 minutos d
Cómo usar Prezi, Manual básico
R2-D2 Projector from Nikko
iPad Presenting: Powerpoint, Videos, Web Demos and more - Teach42 - cogdog's posterous