Presentaciones eficaces
La muerte por Power Point y las presentaciones como imagen corpo. Algunos consejos para presentaciones eficaces | desire. 10 Reglas de Oro Power Point. | Hablar en Público | Habilidades Comunicación | Miedo Exponer | Autores | El Power Point es una herramienta informática creada por Microsoft para realizar presentaciones gráficas con sonido, animaciones, colores llamativos y cuya misión es facilitar la exposición de un tema en multitud de campos (empresarial, educativo, científico, etc).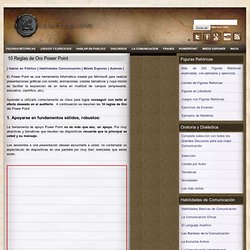 Aprender a utilizarlo correctamente es clave para lograr conseguir con éxito el efecto deseado en el auditorio . Free as in Freedom: 5 Tips to help you Plan your Next Presentati. "Presentation is the 'Killer Skill' we take into the real world.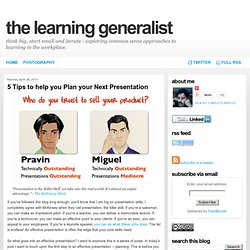 It's almost an unfair advantage."– The McKinsey Mind. If you've followed this blog long enough, you'll know that I am big on presentation skills. I completely agree with McKinsey when they call presentation, the killer skill. If you're a salesman, you can make an impressive pitch. Free as in Freedom: 6 Mistakes you should never make as a Presen. In today's blogpost I want to touch upon one of my other favourite topics - presentations.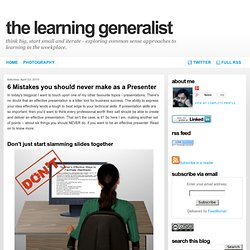 There's no doubt that an effective presentation is a killer tool for business success. The ability to express your idea effectively lends a tough to beat edge to your technical skills. If presentation skills are so important, then you'd want to think every professional worth their salt should be able to create and deliver an effective presentation. How To Create A Visual Hierarchy. Sharebar Within the visual channel of an eLearning course, you communicate through the elements on the screen—the graphics, text and video.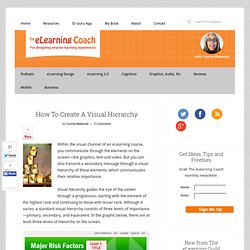 But you can also transmit a secondary message through a visual hierarchy of these elements, which communicates their relative importance. Visual hierarchy guides the eye of the viewer through a progression, starting with the element of the highest rank and continuing to those with lesser rank. Although it varies, a standard visual hierarchy consists of three levels of importance—primary, secondary, and equivalent.
Gimp (teknepolis) Egongela I. Si tu presentación me aburre, no te prestaré más de 10 minutos d. Cómo usar Prezi, Manual básico. R2-D2 Projector from Nikko. iPad Presenting: Powerpoint, Videos, Web Demos and more - Teach42 - cogdog's posterous.
---