Running
6 Fitness Trainer Habits You Can Follow Too | Chris Freytag. As a group fitness instructor and health coach, I am often asked the same questions: What do you do to stay fit?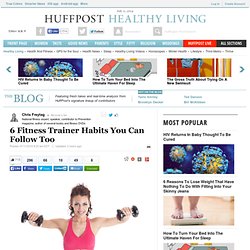 What do you eat? How often do you exercise and what do you do? If you are confused as to what's healthy, you are not alone. We are flooded with health information, and some of it is contradictory. Let me clear the confusion and make fitness easier to achieve with these six trainer habits you can follow too. The 25 Golden Rules of Running. Editor's note: This article originally appeared in Runner's World a few years ago.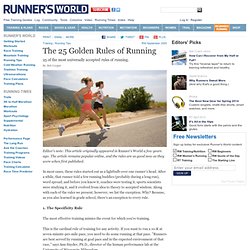 The article remains popular online, and the rules are as good now as they were when first published. In most cases, these rules started out as a lightbulb over one runner's head. After a while, that runner told a few running buddies (probably during a long run), word spread, and before you know it, coaches were testing it, sports scientists were studying it, and it evolved from idea to theory to accepted wisdom. Along with each of the rules we present, however, we list the exception. 3 Frozen Recovery Tools. 110% Overdrive Compression + Ice Kit ($100)Run in the compression socks, then slip on the over-sleeve—and tuck in the reusable ice packs—to target foot and lower-leg pain. 110% Play Harder Arctic Ease Wrap ($16)Providing a light squeeze and a cool but not ice-cold sensation, this cotton wrap is all about convenience.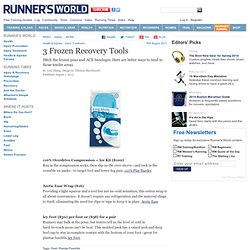 It doesn't require any refrigeration and the material clings to itself, eliminating the need for clips or tape to keep it in place. Arctic Ease Icy Feet ($30) per foot or ($58) for a pairRunners may balk at the price, but testers tell us the level of cold in hard-to-reach areas can't be beat. Bernard Lagat and Ben True Take on a Loaded 5K Field at Pre Classic. Bernard Lagat has won five times at various distances at the Prefontaine Classic but never in the 5000-meter run, an event in which he was the World Champion in 2007 and a silver medalist at the championships in 2009 and 2011.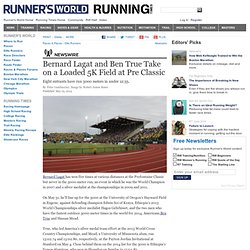 On May 31, he'll line up for the 5000 at the University of Oregon's Hayward Field in Eugene, against defending champion Edwin Soi of Kenya, Ethiopia's 2013 World Championships silver medalist Hagos Gebrhiwet, and the two men who have the fastest outdoor 5000-meter times in the world for 2014, Americans Ben True and Hassan Mead. True, who led America's silver medal team effort at the 2013 World Cross Country Championships, and Mead, a University of Minnesota alum, ran 13:02.74 and 13:02.80, respectively, at the Payton Jordan Invitational at Stanford on May 4. Close behind them on the 2014 list for the 5000 is Ethiopia's Yenew Alamirew, who won in Shanghai on Sunday in 13:04.83. What It's Like to Run With Google Glass. When you wear Google Glass on a run, bystanders will stare.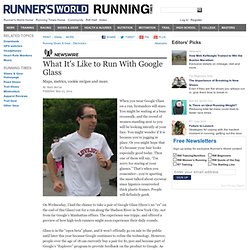 You might be waiting at a busy crosswalk, and the crowd of women standing next to you will be looking intently at your face. You might wonder if it is because you're jogging in place. Or you might hope that it's because your hair looks especially good today. Then one of them will say, "I'm sorry for staring at your glasses."
That's when you remember—you're sporting the most talked about eyewear since hipsters resurrected thick plastic frames. Fulcrum Technology | KARHU USA | Finland's Legendary Running Brand Since 1916. Nine Items to Light Up Your Run. Princeton Tec Vizz ($50) The Vizz is amazingly versatile.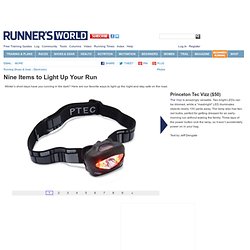 Two bright LEDs can be dimmed, while a "maxbright" LED illuminates objects nearly 100 yards away. The lamp also has two red bulbs, perfect for getting dressed for an early-morning run without waking the family. Three taps of the power button lock the lamp, so it won't accidentally power on in your bag. How to Improve Running Form. Heel Landing Beats Midfoot In Half-Marathon Study. Usain Bolt doesn't worry about his running economy.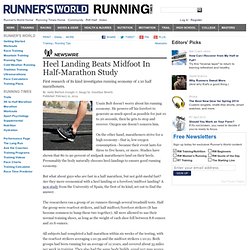 He powers off his forefeet to generate as much speed as possible for just 10 to 20 seconds, then he gets to stop and recover. Oxygen use doesn't concern him. On the other hand, marathoners strive for a high economy - that is, low oxygen consumption - because their event lasts for three to five hours, or more. Studies have shown that 80 to 90 percent of midpack marathoners land on their heels. The 14 best things you can do for your body - Men. You don't need anyone to tell you to have more sex, but it doesn't hurt that research is piling up about the benefits of getting busy.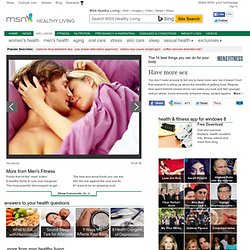 Regular time spent behind closed doors can make you look and feel younger, reduce stress, boost immunity, enhance sleep, protect against prostate cancer and improve cardiovascular health. What's more, a 25-year study from Duke University found that the more sex you have, the longer you'll live. Guys, I think we've discovered the fountain of youth. More: The 2014 Men's Fitness guide to nutrition. The 30 Day Plank Challenge - Want to Join Me? - Pikes Peak Sports. I know that core strength is important for me not only for my running but for lower back discomfort and sacroiliac (SI) issues I have.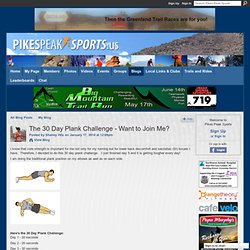 Therefore, I decided to do this 30 day plank challenge. I just finished day 5 and it is getting tougher every day! I am doing the traditional plank position on my elbows as well as on each side. Raise Your Athletic IQ. Whether you're trying to finish your first race, nail a PR, or increase your weekly mileage, runners who are most successful in achieving their goals have a high "athletic intelligence.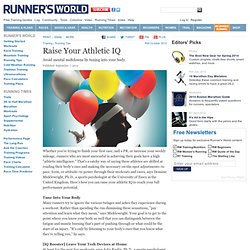 " That's a catchy way of saying these athletes are skilled at reading their body's cues and making the necessary on-the-spot adjustments–to pace, form, or attitude–to power through their workouts and races, says Dominic Micklewright, Ph.D., a sports psychologist at the University of Essex in the United Kingdom. Here's how you can raise your athletic IQ to reach your full performance potential. Runners, Yeah We're Different. In 1999 and 2000, Adidas ran a memorable ad campaign. In my opinion, these are some of the greatest running shoe ads ever created. Each one touches on something private I have experienced as a runner, something that a non-runner would probably appreciate. This series of ads apparently won recognition within the advertising community, and was successful in increasing sales.
Three Ways to Cope with a Bad Race. If "Highway to Hell" is an apt description of your last race, when your pace slowed to a crawl and you weren't sure you'd finish, you might want to consider the perspective of British poet John Keats, who called failure the "highway to success. " Although it may seem contradictory (or crazy) to celebrate a flop, many experts agree that losses can fuel future wins. "A bad race is an opportunity to gather information, learn, and improve," says Ralph Heath, a runner and author of Celebrating Failure: The Power of Taking Risks, Making Mistakes and Thinking Big. "You need to embrace failure as part of the process. " Travel Workout: 20 Minute Sweat HIIT Bodyweight Workout! - Pause The Moment – The Ultimate Travel. Looking to get a good sweat in? This 20 minute HIIT workout should do the trick! We tried this workout for the first time yesterday morning and it kicked our butts!
Amazing Ab Workout - Best Triathlon Gear. The WSJ's "Get Over It" Column, Translated. So a couple of days back, a gentleman by the name of Chad Stafko -- which apparently is his actual name, which I find awesome -- wrote an essay for The Wall Street Journal titled "OK, You're a Runner. Get Over It. " Essentially, Mr. Stafko seemed to be saying that runners... Umm... Well, his point was that there are these oval stickers, see? Four Ways to Stop the Dreaded Side Stitch. Do you have any tips for runners prone to side stitches? I get them once in a while, and when I do, it stops me in my tracks. It happened last week in the middle of a race and I had to walk the last mile.
8 Hydration Myths Busted. The Art of Bodyweight Training. September 30 Day Ab And Squat Calendar | Blog. Four Ways to Enjoy Long Runs. 11 Steps to Becoming Addicted to Running. 11 Steps to Becoming Addicted to Running. Armored Gadgets. The 25 Golden Rules of Running. Review of Running Sunglasses. Sympathy Cards for Runners. 43095 | Photos | The 99 Tribesports Workout. Running etiquette: the 10 commandments | Life and style. Runners, Yeah We're Different. How to Get a Complete Workout with Nothing But Your Body. Men's Revolution Tights - Black/Blue. Cold Weather Running | Active.com. Winter Running: Screw Shoes. The Upside of Running on a Treadmill. The Best Running Gear for Summer. 3 Little Tips for Better Running Form | Ask Coach Jenny.
Running music
Marathon training. Top 5 Truthful Weight loss tips. MCL rehab info. As Prosthetics Improve, Amputees Face New Choices. Amphibx Fit Waterproof Armband for iPhone. TOT12time.pdf (application/pdf Object) Topic: Fundraising: Team in Training alternatives? Breast cancer related, perhaps? (page 3) Saving on Sneakers -- Savings Experiment. Running motivation. Ol down muscles stretching after exercise. A Butt Exercise Worth Doing. The Bridge Burner Workout Addition. | The Healthy PUSH.
MOTIVATION - PAIN IS TEMPORARY. INSPIRATIONAL - HOW GREAT I AM. The most inspiring video you will ever watch! Training Group | Mojo Running.
My Home. Favorite Run - Map Running Routes and Keep a Running Log. Tips to get you motivated to run. The 4-Hour Body by Tim Ferriss - Official Site. Strength Running – Run faster and prevent injuries with better training. Chris Solinsky Training – Correct Your Form and Prevent Injuries. Running music. What to Eat Before A Half Marathon or Marathon. Natural Running Fuel Recipes and Guidelines. The Definitive Guide to Parkour For Beginners. Stretching. Shin splints treatment - exercise to strengthen the lower legs, prevent, repair and care for shin splints problems. | Sports Injury Bulletin. WalkJogRun Running Routes. Best Running Tips, Races & Routes for Runners World Wide | Run The Planet. Energy Gel Recipe from Thrive. My Minimalist Running Shoe Saga. Quick strength training for runners. What is Chi? | What is Chi Running? | Chi Running. How to recover right - Running Shorts -
What to Eat After a Workout. Yasso 800′s and Other Speed Workouts. In Indiana, a Women's Indoor Track Marathon Record. Rock My Run - The Best Running Music in the World. Make Running Fun. 100 Workout Songs for Your iPod. My Favorite Gourmet Nutrition Recipes. 10 Daily Gut Busters. Map your running routes. Plan routes before, or create route maps in real-time using iPhone and GPS. | Running Map.
Christopher McDougall | Profile on TED.com. Christopher McDougall: Are we born to run?
---