Interesting people
Timothy Leary's Transformation From Scientist to Psychedelic Celebrity - Wired Science. Timothy Leary in 1961.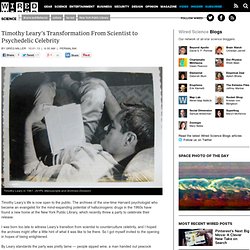 (NYPL Manuscripts and Archives Division) Timothy Leary's life is now open to the public. The archives of the one-time Harvard psychologist who became an evangelist for the mind-expanding potential of hallucinogenic drugs in the 1960s have found a new home at the New York Public Library, which recently threw a party to celebrate their release. Epica pictures – Free listening, videos, concerts, stats, & pictures at Last.fm. Quote by Bob Marley: "Only once in your life, I truly believe, you find...".
How Khan Academy Is Changing the Rules of Education | Magazine. Matthew Carpenter, age 10, has completed 642 inverse trigonometry problems at KhanAcademy.org.Photo: Joe Pugliese "This," says Matthew Carpenter, "is my favorite exercise."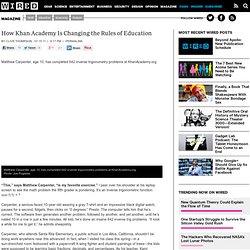 I peer over his shoulder at his laptop screen to see the math problem the fifth grader is pondering. The Satirical Art of Paul Kuczynski - Stop and Think. Mizozo fake link What is Mizozo?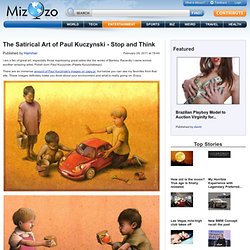 Mizozo is a user generated content site which is in the process of a major shift in business. Originally a news site, Mizozo is now becoming the first truly transparent corporate entity. 20 Badass Famous Last Words. Some of the grandest, most controversial men in history have ended their lives with a poignant, biting farewell.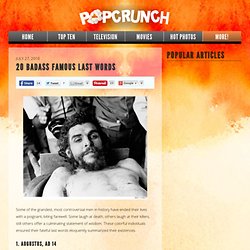 Some laugh at death, others laugh at their killers, still others offer a culminating statement of wisdom. These colorful individuals ensured their fateful last words eloquently summarized their existences. 1. The 2010 Pajiba Ten -- The 4th Annual List of the Ten Most Bangable Celebrities on the Planet. By Dustin Rowles | Guides | July 14, 2010 | Comments (0 View Today marks the Fourth Annual Pajiba Ten -- The Ten Most Bangalicious Celebrities on the Planet, as determined and ranked by our readers.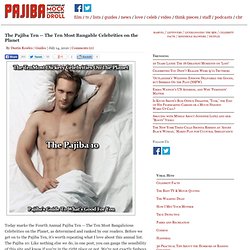 Bree Olson - The Top 10 Everything of 2011. There are many aspects of the very public Charlie Sheen kerfuffle after his feud with CBS that we wish we could forget: the term "winning," the bizarre references to "tiger blood," the rambling boasts.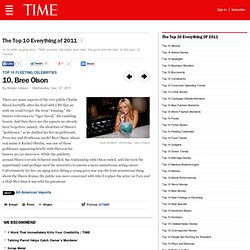 And then there are the aspects we already have forgotten: namely, the identities of Sheen's "goddesses," as he dubbed his live-in girlfriends. Porn star and Penthouse model Bree Olson, whose real name is Rachel Oberlin, was one of those goddesses, appearing briefly with Sheen in his bizarre 20/20 interview. While the publicity around Sheen's erratic behavior swelled, his relationship with Olson ended, and she took the opportunity (and perhaps used the notoriety) to pursue a more mainstream acting career. Unfortunately for her, an aging actor dating a young porn star was the least sensational thing about the Sheen drama; the public was more concerned with who'd replace the actor on Two and a Half Men than it was with his paramour.
---