Great music
Listen to 50+ Arctic Monkeys Songs for Free on Neverending Playlist
Best Indie Rock Albums of All Time - Music
1. Neutral Milk Hotel - In the Aeroplane Over the Sea Released: February 10th, 1998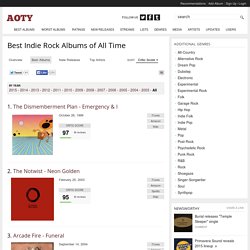 Rockarchive.com
Band to Watch: Half Moon Run - Video
Pay very close attention to Carina Round. Tapped by Maynard James Keenan to be his Puscifer co-vocalist on the brilliant 2011 album 'Conditions of My Parole,' Carina is a versatile musician whose music transcends genres. Knowing true talent once he hears it, Keenan has kept Carina around despite Puscifer's long history of part-time members. The British vocalist and multi-instrumentalist hones some purely beautiful and heavenly pipes, perhaps showcased most effectively in the Puscifer track 'Tumbleweed.' Carina Round is also an accomplished songwriter in her own right.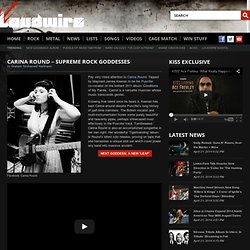 Carina Round – Supreme Rock Goddesses
Sublime, 'Date Rape' – Disturbing Songs People Love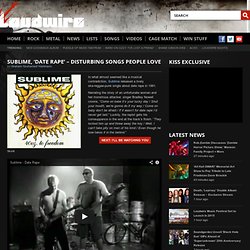 In what almost seemed like a musical contradiction, Sublime released a lively ska-reggae-punk single about date rape in 1991. Narrating the story of an unfortunate woman and her monstrous attacker, singer Bradley Nowell croons, "Come on babe it's your lucky day / Shut your mouth, we're gonna do it my way / Come on baby don't be afraid / If it wasn't for date rape I'd never get laid." Luckily, the rapist gets his comeuppance in the end at the track's finish. "They locked him up and threw away the key / Well, I can't take pity on men of his kind / Even though he now takes it in the behind." Next: I'll Be Watching You
Top 1000 Classic Rock Songs of All Time
Map of Metal
Top Charts
Listen to a Wall of rock Music
Ultimate Jukebox Software for Windows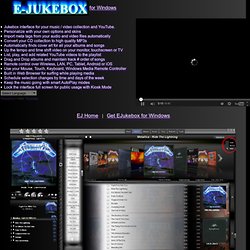 Whenever you strike a party, one of the biggest problems is to make sure the music is always rocking, that nobody is looking around for the right disk in complete silence and that the good vibes are always in the air. Of course, you can spend all night sitting by your stereo system and switching tracks, but why not join the raving crowd? Just try our Jukebox and forget about having mp3, m3u, playlist, generator, manager, media, winamp, commercials, remote control,youtube Manage Your Music. True music lovers cannot imagine their life without having enormous collections of various kinds of music on their computers. As time goes by, the number of their audio files grows so large that it's practically impossible to find a song they desperately need fast and easy. What can really help is powerful software our Jukebox: MP3 Database and Manager. our Jukebox is a database for organizing, managing, and playing MP3 music files.
Listen to Indie Rock on Presto.fm - Free Streaming Music Online
Unwoman
about Unwoman San Francisco Unwoman is a San Francisco-based cellist-singer-songwriter.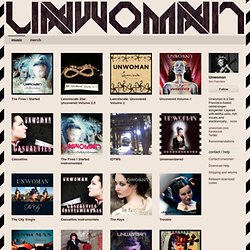 Adele, 21 - The Top 10 Everything of 2011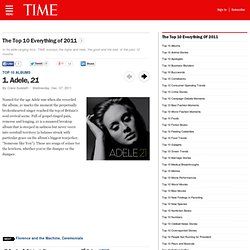 Named for the age Adele was when she recorded the album, 21 marks the moment the perpetually brokenhearted singer reached the top of Britain's soul-revival scene. Full of gospel-tinged pain, remorse and longing, 21 is a nuanced breakup album that is steeped in sadness but never veers into cornball territory (a balance struck with particular grace on the album's biggest tearjerker, "Someone like You"). These are songs of solace for the lovelorn, whether you're the dumper or the dumpee. Next Florence and the Machine, Ceremonials
presents ere's the inside story -- along with links to midis, lyrics and videos -- on the Top 100 singles of the Seventies. Songs we listened to on AM radios at home... in cars... at the beach. From unforgettable masterpieces by major superstars (Marvin Gaye's "Let's Get It On") to definitive singles by forgotten greats (Jim Croce's "Bad, Bad Leroy Brown") to fun, quirky novelties by one-hit wonders (Terry Jacks' "Seasons In The Sun"), these 100 most popular songs of the Seventies are a fascinating combination of the sublime and the ridiculous.
The Top 100 Seventies Singles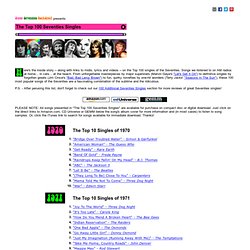 Stephen Colbert can't help but break character
Fish - Plague Of Ghosts
Scattering Crows - Fish
Live dubstep song creation
100 Best Songs of the 1960s | #53 Creedence Clearwater Revival - Bad Moon Rising | NME.COM
Converse Rubber Tracks - Ready, Set: Viva Viva Performs "Hailing A Cab In Hell"
Drop files here to add tracks or artwork to your mix Tapping on the bass guitar was not as popular as the guitar, but in some cases was done before Eddie Van Halen popularized the technique. Jaco Pastorius, Billy Sheehan, Victor Wooten, Stuart Hamm, John Myung, Cliff Burton, Alex Webster, Sean Beasley and Arif Mirabdolbaghi used two-handed tapping techniques on the bass guitar.[citation needed] 1,357213 (view all)45min (11 tracks)
► stairway to heaven by bass tapping | beautiful and funky bass tapping | camillesmith023 | 8tracks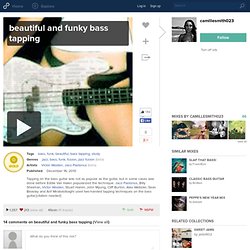 Go the F--k to sleep by rickjamesbiotch on SoundCloud
▶ X-MEN Theme by TheKraken
Jonk Music: Best Songs of the 2000s: Part 4
► Ouray by Andy McKee | Music that you *want* to study to | awgg919 | 8tracks
RIP Pete Seeger Tue, January 28, 2014 Pete Seeger was not satisfied just having spectators. He believed that getting people to sing with him would bring them together, bringing more awareness to social injustice.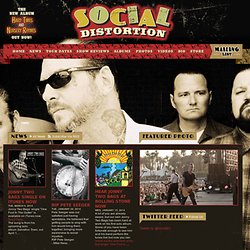 Social Distortion
punk.png (600×450)
latest news Janis Joplin To Receive Star On Hollywood Walk Of Fame June 27, 2012 Janis Joplin will get a star on the Hollywood Walk of Fame sometime in 2013.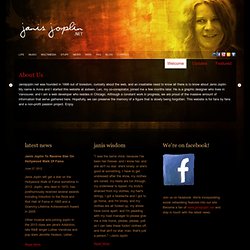 Janis Joplin - Kozmic Blues
JulietteVmusic's Channel
Girl shreds on guitar
Rock Hall plans Grateful Dead exhibit
David Bowie Through the Years Pictures - Serious Moonight Tour | Rolling Stone
lm_creep_(FLASH).swf (application/x-shockwave-flash Object)
Eric Clapton