Education
Top 20 Websites No Teacher Should Start the 2010-2011 Year Without. I have to tell you that it was a tough call to make these decisions, especially when we're talking every teacher no matter what grade level or subject, but I hope that you find a couple of gems to put away in your virtual treasure box.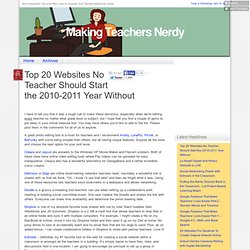 You may have others you'd like to add to the list. Please post them in the comments for all of us to explore. A great photo editing tool is a must for teachers and I recommend Aviary, LunaPic, Picnik, or BeFunky with some being simpler than others, but all having unique features. Explore all the tools and choose the best option for your skill level. Creaza and Jaycut are answers to the Windows XP Movie Maker and Flipcam problem. 10 Awesome Online Classes You Can Take For Free. 1. 7 of them are available via YouTube. 2. iTunes is free.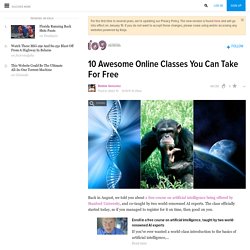 It's clunky, but who cares? Do you somehow lose geek-cred just by installing it specifically for this? Best Teacher I Ever Had. Best Teacher I Ever Had by David Owen Extracted from Reader's Digest (Asian Edition), April 1991, pp. 47-48.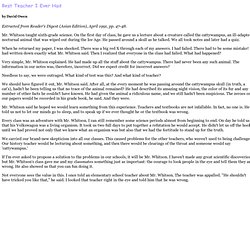 Mr. Redesigning Education: Rethinking the School Corridor. "I am entirely certain that twenty years from now we will look back at education as it is practiced in most schools today and wonder how we could have tolerated anything so primitive.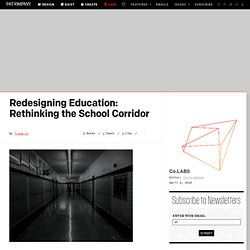 "-John W. Gardner, Secretary of Health, Education and Welfare, "No Easy Victories" (1968) Education reform is in the air and taking root in thousands of classrooms across the country. From overhauling No Child Left Behind to closing poorly performing schools and raising student expectations, the push for change is powerful. Welcome to Test yourself? Academic lists - Templates. Beginner's Guide Tutorials and Training. BrainPOP - Animated Educational Site for Kids - Science, Social Studies, English, Math, Arts.
Untitled. Three-minute timed test. 1.
Read everything before doing anything. 2. Put your name in the upper left-hand corner of this paper. 3. Circle the word "Name" in sentence two. 4. Draw five small squares in the upper left-hand corner of this paper. 5. How to Use Commonly Misused Words. Steps Method 1 of 17: "Affect" and "Effect" 1Use "effect" as instructed.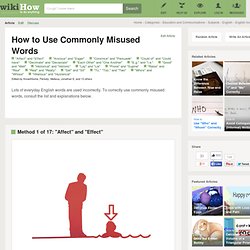 "Effect" is a noun referring to something that happens as a result of something else. E.g., "The antibiotic had little effect on the illness. ""Effect" is also a verb meaning to bring something about. Improve your Brain Health. Infographic: Write It Down. Mass grave reveals 1,000 year old Viking massacre. Born to Learn ~ You are Born to Learn. Instant Grammar Check - Online Proofreading | Grammarly. Khan Academy. Brain Training And Memory Programs, Brain Fitness - CogniFit. Unnecessary Knowledge. Flashcards: The world's largest online library of printable flash cards.
10 Open Education Resources You May Not Know About (But Should) Digital Tools Horla Varlan This week, the OCW Consortium is holding its annual meeting, celebrating 10 years of OpenCourseWare.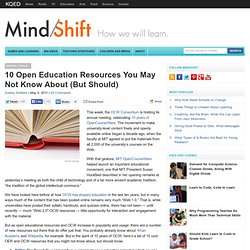 The movement to make university-level content freely and openly available online began a decade ago, when the faculty at MIT agreed to put the materials from all 2,000 of the university's courses on the Web. With that gesture, MIT OpenCourseWare helped launch an important educational movement, one that MIT President Susan Hockfield described in her opening remarks at yesterday's meeting as both the child of technology and of a far more ancient academic tradition: "the tradition of the global intellectual commons."
---