Wireless
[valgasu]
Serverless Peer to Peer Collaboration
Author: Sven Knispel Updated: 03-10-2005 Feedback welcome: linux@cri.ch Free service provided by: www.cri.ch Hacking other people's WLAN is illegal and unethical.
Linux Docs - WLAN hacking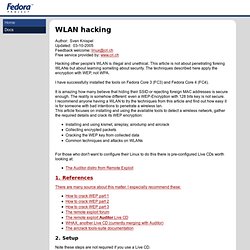 What's new in Episode 101
Episode 101: 25 Cent WiFi Booster, Test Drive Unlimited, No More
Cracking WEP with Windows XP pro.
Pour tester la sécurité de votre réseau wifi, nous avons besoin de la suite aircrack-ng anciennement aircrack. Par abus de language, on utilisera parfois la dénomination aircrack m�me pour aircrack-ng et ses composants.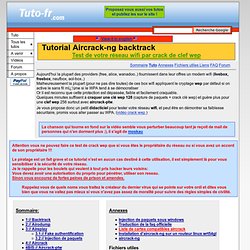 aireplay 2.2 arp capture / flood tutorial - NetStumbler.org WiFi
Linox.BE » Wifi Explorer
AbsoluteValue Systems, Inc. - www.linux-wlan.com
Crack Wep [tutorial]
How To Crack WEP - Part 2: Performing the Crack | Tom's Net
How To Crack WEP - Part 1: Setup & Network Recon | Tom'
Auditor main - Remote-exploit.org
Whether you are directly connected to a wireless network or not, if there is wireless network in range, there is data flying through the air at any given moment.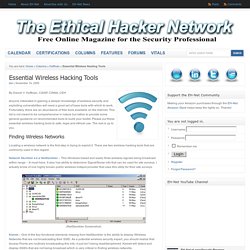 PortForward.com - Free Help Setting up Your Router or Firewall