Scrum
A Practical Guide to Distributed Scrum offers an unprecedented view into how distributed teams can successfully implement and use Scrum, the leading framework for agile software development. With tips, experiences and recommendations from over 1,084 agile team members from 30 countries, readers have access to a wealth of techniques that can maximize the potential of their globally-distributed teams. Early in the development process, the IBM QSE Agile Community decided to donate all royalties to charitable organizations. They voted on the following charities to benefit from these efforts.
Practical Guide to Distributed Scrum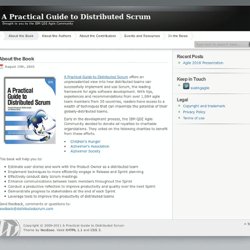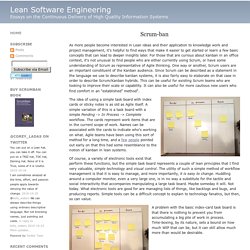 As more people become interested in Lean ideas and their application to knowledge work and project management, it's helpful to find ways that make it easier to get started or learn a few basic concepts that can lead to deeper insights later. For those that are curious about kanban in an office context, it's not unusual to find people who are either currently using Scrum, or have some understanding of Scrum as representative of Agile thinking. One way or another, Scrum users are an important constituent of the Kanban audience. Since Scrum can be described as a statement in the language we use to describe kanban systems, it is also fairly easy to elaborate on that case in order to describe Scrum/Kanban hybrids. This can be useful for existing Scrum teams who are looking to improve their scale or capability. It can also be useful for more cautious new users who find comfort in an "established" method1.
26 Hints for Agile Software Development
October 21, 2009 | Author: PM Hut | Filed under: Agile Project Management 26 Hints for Agile Software Development By Keith Swenson I collect nuggets of wisdom on various topics. Recently I have been going over the topic of Agile software development; what really matters? Below is a list of 26 key principles to guide an agile software development team.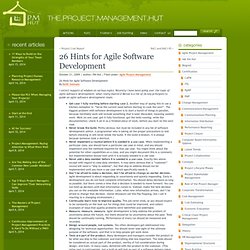 Scrum Tools for Agile Project Management | Agilebuddy
This post is probably going to be hated and loved at the same time. Because, when people talk about agile practices, they can sometimes become very religious. Which means I may be putting my head in a noose with this one.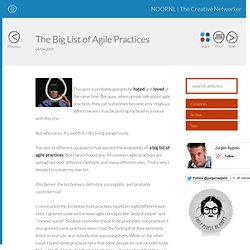 The Big List of Agile Practices
Jim Shore on what seperates high performing agile teams from jus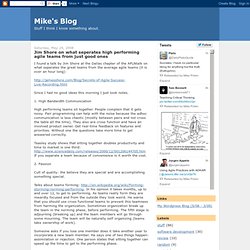 I found a talk by Jim Shore at the Dallas chapter of the APLNtalk on what separates the great teams from the average agile teams (it is over an hour long): http://jamesshore.com/Blog/Secrets-of-Agile-Success-Live-Recording.html Since I had no good ideas this morning I just took notes. 1. High Bandwidth Communication
Despite our best attempt to remain agile, the iteration of the page you are looking for appears to have been ... umm ... released. The content either moved or it never existed in the first place. Please return to the AgileConnection.com Home Page and use the main navigation there or use Search function at the top of any page to find what you are looking for. If you still need help, please Contact Us. The Nerdy Version: 404 Page Not Found — The page you requested was not found.
Agile Journal - Top 9 challenges of adopting Scrum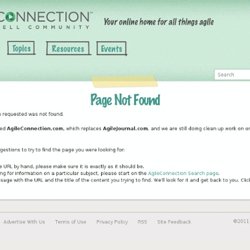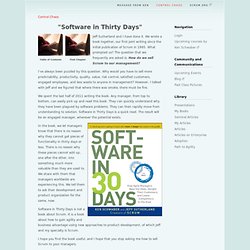 "Software in Thirty Days" Table of Contents First Chapter Jeff Sutherland and I have done it. We wrote a book together, our first joint writing since the initial publication of Scrum in 1995.