Recipes
Simple One Pot Pasta Recipe Easy Pasta Dish With Easy Cleanup! Can You Really Make A Pasta Dish With Tasty Sauce With No Water? I found this one-pot pasta idea on Facebook, found a recipe and sent it to my oldest daughter.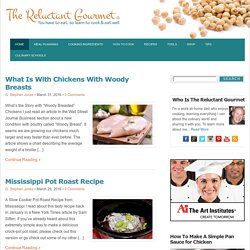 Chicken breasts in a creamy Dijon mustard sauce with shallots. Healthy green smoothie with banana, pineapple, spinach, and Greek yogurt. Black-eyed Pea Salsa with green chiles, onions, red bell pepper, served with jack cheese quesadillas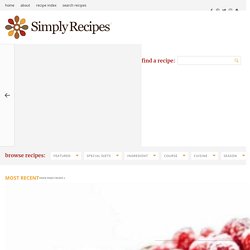 Augieland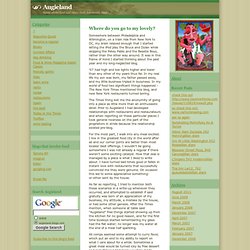 Somewhere between Philadelphia and Wilmington, on a train ride from New York to DC, my brain relaxed enough that I started letting the iPod play the Bruce and Dylan while skipping the Petey Pablo and the Beastie Boys, rather than the other way around. It was in this frame of mind I started thinking about the past year and my long-neglected blog. '07 had high and low lights higher and lower than any other of my years thus far. In my real life my son was born, my father passed away, and my little business tripled in busyness. In my world of food two significant things happened – The New York Times mentioned this blog, and new New York restaurants turned boring. The Times thing lost me the anonymity of going into a place as little more than an enthusiastic diner.
Copenhagen take away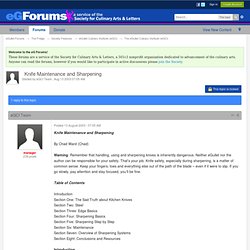 Knife Maintenance and Sharpening By Chad Ward (Chad) Warning: Remember that handling, using and sharpening knives is inherently dangerous. Neither eGullet nor the author can be responsible for your safety.
eG Forums -> Knife Maintenance and Sharpening
" Gastronomical Dictionary " Dizionario Gastronomico &
Y! Cucina - Pagina iniziale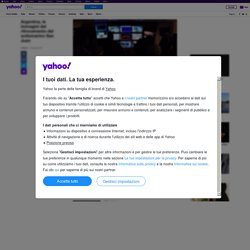 Nato a Milano, il panettone è un dolce natalizio che orna le tavole di tutta Italia durante le feste. Si tratta di un dolce dai semplici ingredienti ma dalla preparazione articolata. Le leggende sull'origine del panettone, letteralmente Pan del Toni, sono diverse. Alcune narrano che la ricetta sia stata inventata da Messer Ughetto degli Atellani che si fece assumere come garzone di un fornaio per conquistare sua figlia.
Besciamella