Monitoring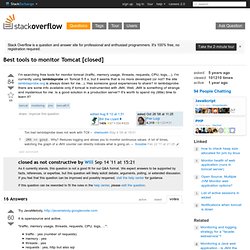 I have been very happy monitoring Tomcat with Hyperic HQ. Even if developing Hyperic HQ plugins has an initial cost, we got familiar with it and developed many JMX Mbeans + associated Hyperic plugins for the needs we had like Jakarta DBCP datasource , util.concurrent ExecutorService / ThreadPoolExecutor, JMS connections, CXF, EhCache and also monitoring business application code with an @Profiled annotation to declaratively monitor key business operations. We packaged all these JMX extras with Spring xml namespace based configuration, monitoring jsps and Hyperic plugins at http://code.google.com/p/xebia-france/wiki/XebiaManagementExtras . To ease integration / modification of this code, we used the business friendly Apache Software License, a Google Code project and deployed the artifact on Maven Central Repository.
Best tools to monitor Tomcat
javasimon - Google Code
Java Simon is a simple monitoring API that allows you to follow and better understand your application. Monitors (familiarly called Simons) are placed directly into your code and you can choose whether you want to count something or measure time/duration. News August 22nd, 2013 - version 3.4.0 released Slowly, but surely and proudly we are marching on - with another fixes + little features release.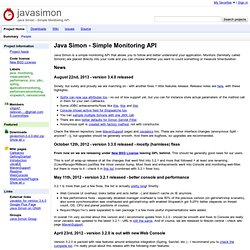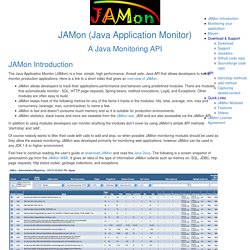 JAMon - Documentation
For example, to collect statistics for all JSP pages in a Web Application, a developer would place a call to the start() method at the top of every JSP, and a call to the stop() method at the bottom. With a few minutes work the developer will have statistics for all application pages. The statistics will include number of page hits, average page execution times, and the number of users simultaneously accessing each page. The statistics can be displayed as an HTML table by calling the getReport() method, or using jamonadmin.jsp. JAMon requires no special administration accounts. Many monitoring tools require administrative accounts to install monitoring software, and to view statistics.
MessAdmin is a notification system and Session administration for Java EE Web Applications, giving detailed statistics and informations on any Web application. It installs as a plug-in to any Java EE WebApp, and requires zero-code modification. Please visit our web site for more information.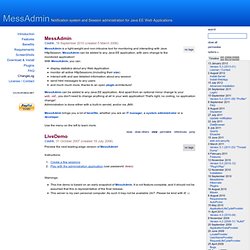 MessAdmin - Notification system and Session administration for J