Lighting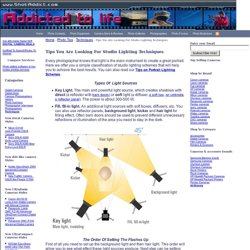 Every photographer knows that light is the main instrument to create a great portrait. Here we offer you a simple classification of studio lighting schemes that will help you to achieve the best results. You can also read our Tips on Portrait Lighting Schemes .
Tips You Are Looking For Studio Lighting Techniques
Ever notice how people texting at night have that eerie blue glow ? Or wake up ready to write down the Next Great Idea, and get blinded by your computer screen? During the day, computer screens look good—they're designed to look like the sun . But, at 9PM, 10PM, or 3AM, you probably shouldn't be looking at the sun. POCKETWIZARD