Caching
How Google Taught Me to Cache and Cash-In | High Scalability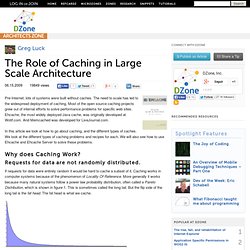 The Role of Caching in Large Scale Architecture | Architects Zo
Pre-Internet, lots of systems were built without caches. The need to scale has led to the widespread deployment of caching. Most of the open source caching projects grew out of internal efforts to solve performance problems for specific web sites.
A lot of us heard the word cache and when you ask them about caching they give you a perfect answer but they don't know how it is built, or on which criteria I should favor this caching framework over that one and so on, in this article we are going to talk about Caching, Caching Algorithms and caching frameworks and which is better than the other. The Interview: "Caching is a temp location where I store data in (data that I need it frequently) as the original data is expensive to be fetched, so I can retrieve it faster.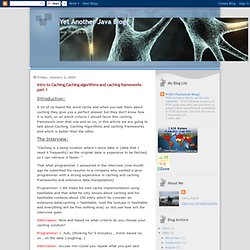 Intro to Caching,Caching algorithms and caching frameworks part
Blog : Improving Java web site performance with asset caching
What is Memcached? Free & open source, high-performance, distributed memory object caching system , generic in nature, but intended for use in speeding up dynamic web applications by alleviating database load. Memcached is an in-memory key-value store for small chunks of arbitrary data (strings, objects) from results of database calls, API calls, or page rendering.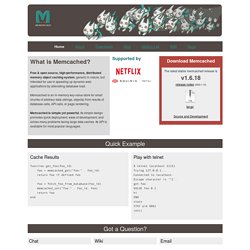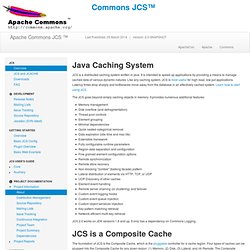 Java Caching System JCS is a distributed caching system written in java. It is intended to speed up applications by providing a means to manage cached data of various dynamic natures. Like any caching system, JCS is most useful for high read, low put applications. Latency times drop sharply and bottlenecks move away from the database in an effectively cached system.
JCS - Java Caching System
Too-biased - Tobias Luetke's thoughts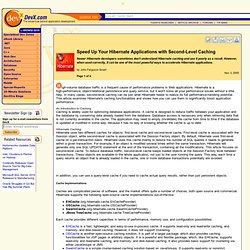 Speed Up Your Hibernate Applications with Second-Level Caching
igh-volume database traffic is a frequent cause of performance problems in Web applications. Hibernate is a high-performance, object/relational persistence and query service, but it won't solve all your performance issues without a little help. In many cases, second-level caching can be just what Hibernate needs to realize its full performance-handling potential. This article examines Hibernate's caching functionalities and shows how you can use them to significantly boost application performance. An Introduction to Caching Caching is widely used for optimizing database applications.
LLC - Open Souce Projects
OSCache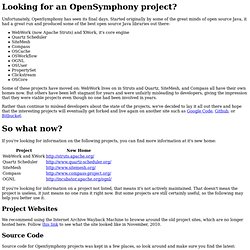 Unfortunately, OpenSymphony has seen its final days. Started originally by some of the great minds of open source Java, it had a great run and produced some of the best open source Java libraries out there: WebWork (now Apache Struts) and XWork, it's core engine Quartz Scheduler SiteMesh Compass OSCache OSWorkflow OGNL OSUser PropertySet Clickstream OSCore Some of these projects have moved on: WebWork lives on in Struts and Quartz, SiteMesh, and Compass all have their own homes now. But others have been left stagnant for years and were unfairly misleading to developers, giving the impression that they were viable projects even though no one had been involved in years. Rather than continue to mislead developers about the state of the projects, we've decided to lay it all out there and hope that the interesting projects will eventually get forked and live again on another site such as Google Code, Github, or Bitbucket.