BahanPHP
Is Anyone Else Interested In Using The .NET Framework From VB6? Or was I the only not doing that yet? Anyway, it's easy. I'm not sure I have full access to it, but I can do things I couldn't before.
Komunitas Indonesia Open Source / [ASK] Function PHP buat validasi/login User
PHP Code Generator
Scripts :: PHP
PHP :: Calculators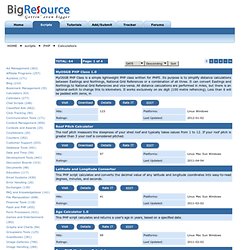 MyOSGB PHP Class is a simple lightweight PHP class written for PHP5. Its purpose is to simplify distance calculations between Eastings and Northings, National Grid References or a combination of all three. It can convert Eastings and Northings to National Grid References and vice-versa. All distance calculations are performed in miles, but there is an optional switch to change this to kilometers.