BahanPHP
Motions for reintroduction of Visual Basic 6.0 on the market, in parallel with Visual Studio line I prepare an article related to the reintroduction of VB6 programming language on the market. But, it seems that yesterday someone took this initiative before me and I think that is a commendable thing because we all want to see VB6 on the market again. Source: http://www.codeproject.com/Articles/710181/Visual-Basic-6-0-A-giant-more-powerful-than-ever Convert Large & Small Text Files to PDF inside Android Applications Android application. We often get queries from customers who would like to convert their text files to PDF.
Komunitas Indonesia Open Source / [ASK] Function PHP buat validasi/login User
PHP Code Generator
Scripts :: PHP
PHP :: Calculators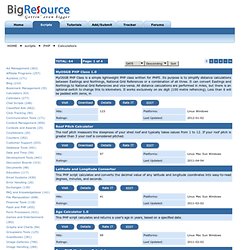 MyOSGB PHP Class is a simple lightweight PHP class written for PHP5. Its purpose is to simplify distance calculations between Eastings and Northings, National Grid References or a combination of all three. It can convert Eastings and Northings to National Grid References and vice-versa. All distance calculations are performed in miles, but there is an optional switch to change this to kilometers.