Meditation
A Brief Explanation of Theta Brain Waves - Formula for Miracles® The Formula for Miracles® works by using a rigorouis, scientific approach to meditation and focused prayer to access a conscious theta brain wave, allowing you to directly access and work with your subconscious mind.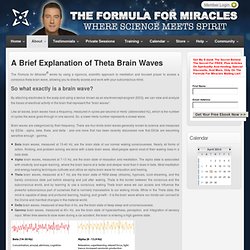 So what exactly is a brain wave? By attaching electrodes to the scalp and using a device known as an electroencephalogram (EEG), we can view and analyze the traces of electrical activity in the brain that represent the "brain waves". Like all waves, brain waves have a frequency, measured in cycles per second or Hertz (abbreviated Hz), which is the number of cycles the wave goes through in one second.
So, a lower Hertz number represents a slower wave. Brain waves are categorized by their frequency. Merkaba - Star Tetrahedron - Flower of Life. Merkabah Merkabah, also spelled Merkaba, is the divine light vehicle allegedly used by ascended masters to connect with and reach those in tune with the higher realms.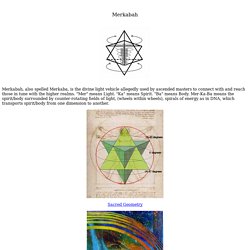 "Mer" means Light. "Ka" means Spirit. "Ba" means Body. Kacha Stones Chakra Kits Pendulums.
---