News Articles Education
About the Journal
'Tis National Poetry Month! In April, classrooms around the country will dive into the expressive art of poetry. Shakespeare, Frost, Yeats, the list goes on and on.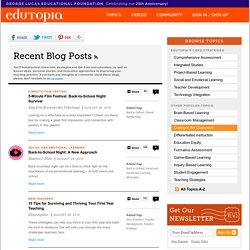 84% Discount Expiring In… 22 hours 58 minutes 52 seconds ! " 10 Step-by-Step Webtool Videos That Make You Feel Like You Can Do It Too! " Watch these fun videos and YOU will learn 10 webtools that can improve your classroom Forever… and we have the Teacher Feedback to prove it! With ten easy-to-follow videos, you'll be using these tools in no time. Just ONE of these helpful secrets is worth the investment for you and your students!
Get Your Webtools Resource Bundle – Vol. 1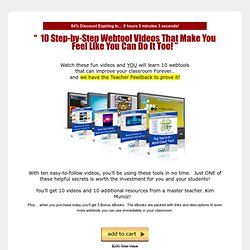 Tch This Week: Quick Classroom Tips & Tricks for 2012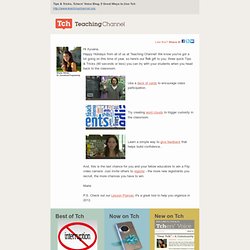 Hi Ayuana, Happy Holidays from all of us at Teaching Channel! We know you've got a lot going on this time of year, so here's our Tch gift to you: three quick Tips & Tricks (90 seconds or less) you can try with your students when you head back to the classroom. Use a deck of cards to encourage class participation . Try creating word clouds to trigger curiosity in the classroom.
Video Games for Learning: Resource Roundup
3rd Grade's a Hoot
Teaching With Soul - Inspiring, Mentoring, Equipping Teachers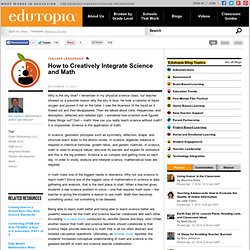 How to Creatively Integrate Science and Math
"In math class one of the biggest needs is relevance. Why not use science to teach math? Since one of the biggest uses of mathematics in science is data gathering and analysis, that is the best place to start. When a teacher gives students a real science problem to solve -- one that requires math tools -- the teacher is giving the students a reason to use math.
Edutopia's Schools That Work series profiles K-12 schools, districts, and programs that are dramatically improving the way students learn. Focusing on evidenced-based successes, we create how-to videos and actionable tip lists to help you transform your schools. We get close to the teachers, students, principals, and other administrators who have changed the future of their schools, and show you how they did it. These educators also share their resources -- rubrics, lesson plans, assessments, and training tools that will help you build your own successes.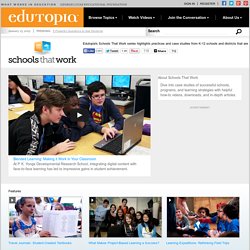 Education Week: 2011 Year-in-Review Blog Posts
Published Online: December 30, 2011 By The Editors Premium article access courtesy of Edweek.org. In 2011, Education Week published in print and online well over 100 thoughtful Commentaries on education issues. To give a sense of which opinion essays our readers found most compelling, the editors at Education Week have compiled a list of our 10 most-viewed Commentaries. Below, they are ordered by the number of online page views they generated.
The 10 Most Viewed <i>EdWeek</i> Commentaries of 2011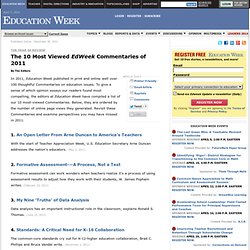 2011: The Year in Review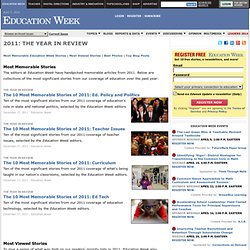 Most Memorable Stories The editors at Education Week have handpicked memorable articles from 2011. Below are collections of the most significant stories from our coverage of education over the past year: Ten of the most significant stories from our 2011 coverage of education's role in state and national politics, selected by the Education Week editors. December 27, 2011 - Education Week Ten of the most significant stories from our 2011 coverage of teacher issues, selected by the Education Week editors.