Materials to use in the classroom/ printables & other ideas
Daily 5 Work on Words... and freebies! Ok it is all kinds of embarrassing that it has taken me this long to blog about my Work on Words setup and activities.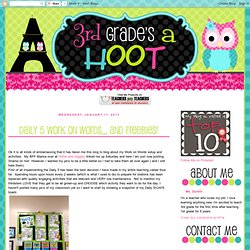 My BFF Marisa over at Glitter and Giggles linked me up Saturday and here I am just now posting. Shame on me! However, I wanted my pics to be a little better so I had to take them all over again ( and I still hate them). First of all implementing the Daily 5 has been the best decision I have made in my entire teaching career thus far. Spending hours upon hours every 2 weeks (which is what I used to do) to prepare for stations has been replaced with quality engaging activities that are relevant and VERY low maintenance. Printable Teacher Worksheets. Free Astronomy courses, Astronomy lesssons, Astronomy classes and Astronomy exams for homeschool, hobby or anyone who wants to learn about the night sky.
Book-A-Minute Bedtime. The kids want a bedtime story again?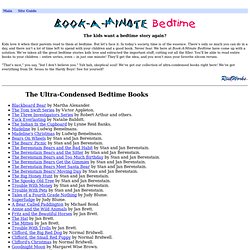 Kids love it when their parents read to them at bedtime. But let's face it. In today's society, time is of the essence. There's only so much you can do in a day, and there isn't a lot of time left to spend with your children and a good book. Never fear. Free Audio Books - Philosophy - Download mp3 and iPod format today! - StumbleUpon. Rubrics - Bloom's Digital Taxonomy. 10 MORE Ways to Wake-up Students in Class. Home » Education Written by Grace4 January 2012 We received such a great response to our last guest post about interactive ways to awaken students in the classroom that we decided to share more.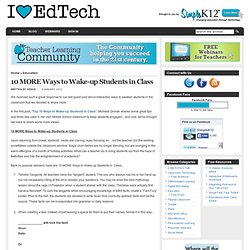 In the first post, "Top 10 Ways to Wake-up Students in Class", Michelle Doman shared some great tips and tricks she uses in her own Middle School classroom to keep students engaged... and now, we've brought her back to share some more ideas! 10 MORE Ways to Wake-up Students in Class. Multiple Intelligences Survey. Multiple Intelligences Inventory Copyright 1999-2014 Walter McKenzie, The One and Only Surfaquarium Note: This is not a test - it is a snapshot in time of an individual's perceived MI preferences.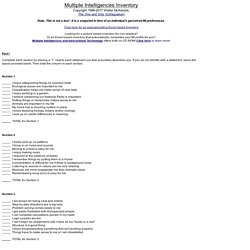 Looking for a picture based inventory for non-readers? Or an Excel-based inventory that automatically completes your MI profile for you? Paragon Learning Style Inventory. The Paragon Learning Style Inventory (PLSI) is a self-administered survey that provides a very reliable indication of learning style and cognitive preference. It uses the four Jungian dimensions (i.e, introversion/ extroversion, intuition/sensation, thinking/feeling, and judging/perceiving) that are also used by the Myers-Briggs Type Indicator, Murphy Meisgeir Type Indicator, and the Keirsey-Bates Temperament Sorter. But this is the only instrument that can be self-scored and works with ages 9-adult. This site provides the 48-item general version. Nine questions I ask my students on the first day of school. Aug You've probably heard that expression that goes something like "you only get one chance to make a good first impression".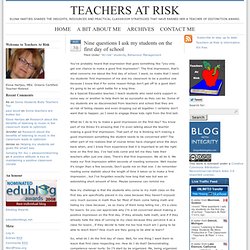 The first impression, that's what concerns me about the first day of school. I want, no make that I need my students' first impression of me and my classroom to be a positive one because I know that if for some reason things don't get off to a good start it's going to be an uphill battle for a long time. As a Special Education teacher, I teach students who need extra support in some way or another to help them be as successful as they can be. Some of my students are so disconnected from teachers and school that they are at-risk of failing classes and even dropping out all together.
---