Alimentación (ES) / Power (EN) / Puissance (FR)
Julie's Gadget Diary – Qi inductive wireless charging, more trouble than it's worth?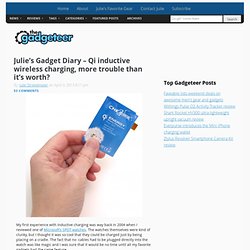 My first experience with inductive charging was way back in 2004 when I reviewed one of Microsoft's SPOT watches. The watches themselves were kind of clunky, but I thought it was so cool that they could be charged just by being placing on a cradle. The fact that no cables had to be plugged directly into the watch was like magic and I was sure that it would be no time until all my favorite gadgets had the same feature. In 2009, the Palm Pre smartphone had an optional inductive charger called the Touchstone. I thought that might be the spark needed to ignite popularity for this charging method, but no such luck. Yes, over the years there have been a variety of special cases and charging mats that will add wireless charging capability to certain devices, but those add-on products are bulky and ugly.
Selected contestants participated in the Wireless Power RoadTest Challenge in which they integrated wireless charging into their daily lives: in the car, on the couch, in the kitchen, in the bathroom, in the lab, or integrated into their furniture. They used the TI transmitter manager bq500210EVM-689 and receiver evaluation module bq51013AEVM-765 along with Würth Elektronik charging coils, transmitter 24µH part # 760308101 and receiver 10µH part # 760308201. They were also provided with a $500 budget each to purchase additional components and a copy of CadSoft Eagle.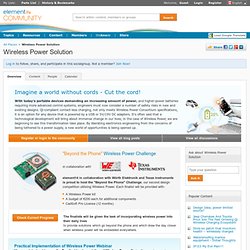 Group: Wireless Power Solution
http://www.mouser.com/catalog/specsheets/PSA05F.pdf
http://www.phihong.com/assets/pdf/PSM03E.pdf
Notes on the Troubleshooting and Repair of AC Adapters, Power Supplies, and Battery Packs, and Other Related Information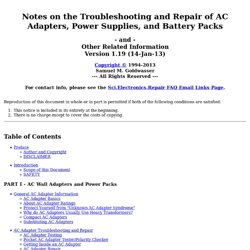 - and - Other Related Information Version 1.18 (20-Jun-12)
Notes on the Troubleshooting and Repair of Small Household Appliances and Power Tools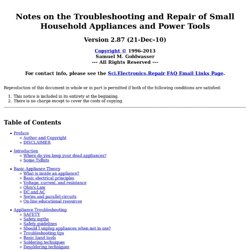 Version 2.87 (21-Dec-10) Reproduction of this document in whole or in part is permitted if both of the following conditions are satisfied: This notice is included in its entirety at the beginning. There is no charge except to cover the costs of copying. Table of Contents
Productos: 0Subtotal: 0€ CABLE DE RECARGA USB A CONECTOR 3.5mm HEMBRA + 5 CONECTORES Referencia Sin Stock Caracteristicas
CABLE DE RECARGA USB A CONECTOR 3.5mm HEMBRA + 5 CONECTORES - DJMania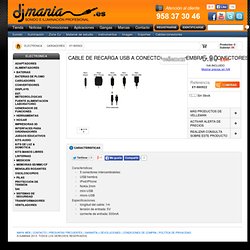 SExpand We put up with too many cables. There are at least four different kinds of USB plugs, two kinds of FireWire and like a million different ways to connect something to TV or monitor. Modern gadget life can be kind of retarded in this way. Why not one kind of cable, or just a couple?
Giz Explains: An Illustrated Guide to Every Stupid Cable You Need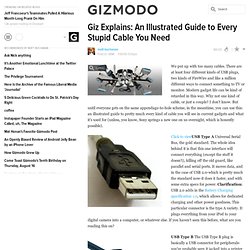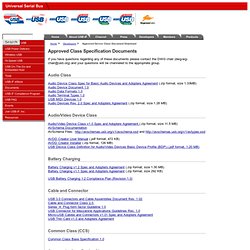 Approved Device Class Document Download
If you have questions regarding any of these documents please contact the DWG chair (dwg-wg-chair@usb.org) and your questions will be channeled to the appropriate group. Audio Class Audio Device Class Spec for Basic Audio Devices and Adopters Agreement (.zip format, size 1.33MB)Audio Device Document 1.0 Audio Data Formats 1.0 Audio Terminal Types 1.0 USB MIDI Devices 1.0 Audio Devices Rev. 2.0 Spec and Adopters Agreement (.zip format, size 1.28 MB) Audio/Video Device Class
Electronics - Electronic Component Distributor Alimentación
RPE-N-R Phihong Adaptadores de CA enchufables
Wireless Power Transmission
http://www.phihong.com/assets/pdf/PSM08R.pdf