Twitter
Twitter comes up frequently on ProfHacker. We write about Twitter in the classroom, Twitter for conference (and unconference) backchannels, and using Twitter as part of a web presence strategy. One of my first ProfHacker posts was all about how and why academics should consider using the service. When it comes to the classroom, however, there are complications with requiring Twitter.
Disposable Twitter Accounts for Classroom Use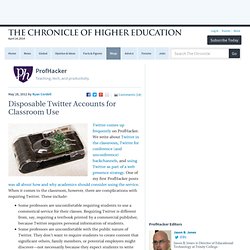 I've seen plenty of presentations that try to incorporate social media, polling, and other interactive tools. It's all an effort to engage the audience and keep the conversation going. But usually these presentations don't do it right. They say 'mention my presentation with the XYZ hashtag' or 'like us on Facebook to see back-channel conversations' and whatnot. But all of that is passive participation.
Visual Tweets
10 Reasons for Education Professionals to Use Twitter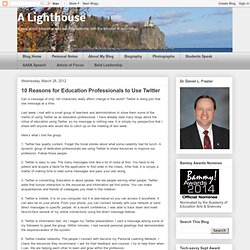 Can a message of only 140 characters really affect change in the world? Twitter is doing just that one message at a time. Last week I met with a small group of teachers and administrators to show them some of the merits of using Twitter as an education professional.
Todays guest post comes from Leah Lacrosse from Huron City School is Huron Ohio. Leah is a 5th grade Science teacher who utilizes Ipads, Skype and Twitter in the classroom. Heres what she has to say: I think we all have noticed that the school classroom walls are not so defined anymore…right?
c2c Tweetup | Bringing classrooms together via twitter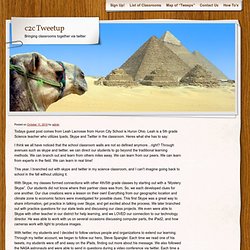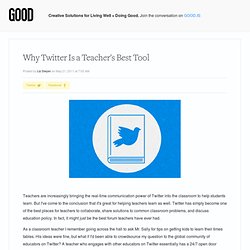 Teachers are increasingly bringing the real-time communication power of Twitter into the classroom to help students learn. But I've come to the conclusion that it's great for helping teachers learn as well. Twitter has simply become one of the best places for teachers to collaborate, share solutions to common classroom problems, and discuss education policy. In fact, it might just be the best forum teachers have ever had. As a classroom teacher I remember going across the hall to ask Mr. Sally for tips on getting kids to learn their times tables.