My PD Opps
Teacher Reboot Camp. ISTE 12 Blogposts. Digital Differentiation with Screencasting - Download free content from Apple Distinguished Educators. Digital Skills for 21st Century Teachers. Apply Now for the NYC Google Teacher Academy. 30+ Open Wikis Every Educator Should Know About. How Students Benefit From Using Social Media 12.65K Views 0 Likes A lot of criticism has been leveled at social media and the effect it has on the way students process and retain information, as well as how distracting it can be.
However, social media offers plenty of opportunities for learning and interactivity, and if you take a moment to think about it, it's not too hard to see how students benefit from using social media. 3 Tech Tips Your Grandma Could Teach You 2.02K Views 0 Likes. Education. "When are we ever going to use this?"
When I was a teacher, this was a question I heard almost daily. I would imagine that has not changed much since I left the classroom five years ago, particularly when it comes to math. Have you heard of the Virtual Teaching Expo? Would you like to learn more about teaching blogs?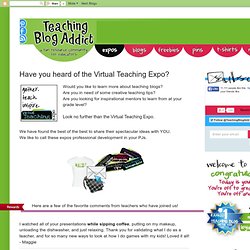 Are you in need of some creative teaching tips? Are you looking for inspirational mentors to learn from at your grade level? Look no further than the Virtual Teaching Expo. BLC Conference - Registration. Attended by colleagues from around the world who care deeply about bringing creative, innovative and rigorous learning practices to their students, the BLC13 conference provided our attendees with inspiration and practical skills while expanding their professional networks.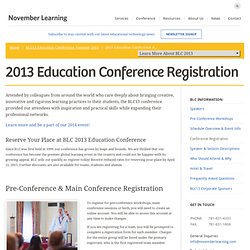 Reserve Your Place at BLC 2013 Education Conference Since BLC was first held in 1999, our conference has grown by leaps and bounds. We are thrilled that our conference has become the premier global learning event in the country and could not be happier with its growing appeal. BLC sells out quickly, so register today!
---