Integrated Technology Tools
Free Technology for Teachers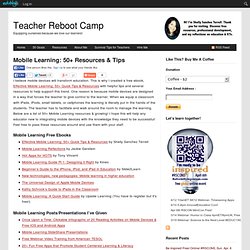 I believe mobile devices will transform education. This is why I created a free ebook, Effective Mobile Learning: 50+ Quick Tips & Resources with helpful tips and several resources to help support this trend. One reason is because mobile devices are designed in a way that forces the teacher to give control to the learner. When we equip a classroom with iPads, iPods, small tablets, or cellphones the learning is literally put in the hands of the students. The teacher has to facilitate and walk around the room to manage the learning.
"Laptop Kits" for Using Computers in the Classroom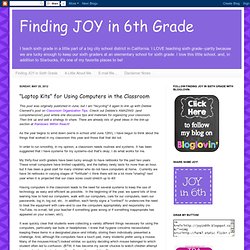 This post was originally published in June, but I am "recycling" it again to link up with Debbie Clement's post on Classroom Organization Tips. Check out Debbie's AMAZING (and comprehensive!) post where she discusses tips and materials for organizing your classroom. Then link up and add a strategy to share.
Tech Ease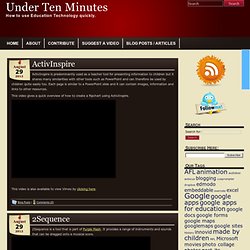 The Zondle site recently went through some refurbishments. Here is an updated video to get you started. The video is on YouTube, if you can't access the video, try this link instead. The old Zondle video is here. Thanks to Danny Nicholson (@dannynic) from the Whiteboard Blog for sharing this video about how to use the Activity Builder in Smart Notebook.
Under Ten Minutes | How to use Education Technology quickly.
An educational ratings system for digital content announced last May has debuted with listings for more than 150 mobile apps, games, and websites, and several hundred more expected to follow, according to a press release from Common Sense Media. The system, created by the San Francisco-based youth media watchdog group through a partnership with the Chicago-based Susan Crown Foundation, piggybacks on Common Sense Media's system of reviewing media in popular culture to determine age appropriateness and quality. Just as current reviews of movies and video games, for example, assess levels of violence, sexual content, and language, the new reviews will also determine products' levels of math, science, and language arts content, as well as their potential for building skills like critical thinking, creativity, and collaboration.
Educational Ratings For Digital Content Launched - Digital Education